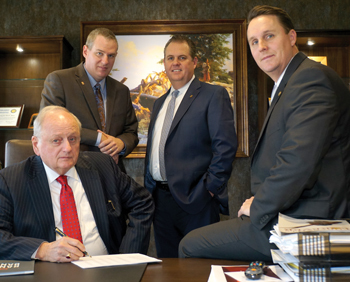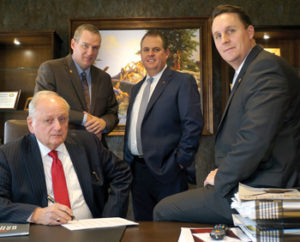 Publisher's note: We are pleased to partner with Bell Bank to present the 2018 Banker of the Year feature. This is the sixth year in a row that the Fargo, N.D.-based bank has provided its sponsorship. The Banker of the Year program, started in 1989, is one of the most popular regular features we produce annually. Sponsorship support provides important resources that we use to maintain the high standards of this unique recognition program. Larry Ness, chairman and CEO of First Dakota National Bank, Yankton, S.D., is our 30th Banker of the Year selection. His is only the third selection from the state of South Dakota. We appreciate the support of Bell Bank and congratulate Larry Ness on being selected our 2018 Banker of the Year.
Through decades of leadership, Ness grows South Dakota's oldest bank to one of its largest
In the mid-1980s, the majority of South Dakota's 150 or so banks had assets of $50 million or fewer. One of those banks was the oldest bank in the state, First Dakota National Bank of Yankton, operated by Larry Ness, a former examiner with the Office of the Comptroller of the Currency. Ness was eager to make the most of his experience, which included stints managing two other banks in the state: the Mitchell National Bank and the First National Bank of Volga. Some 30 years later, Ness has grown the Yankton bank to $1.588 billion in assets.
Today, many of those smaller banks from the 1980s are gone and few of those that survived grew by more than 10 times, let alone 30 times. What did Ness do that all those other bank managers missed?
Ness, who started working at the First Dakota National Bank when it was on the verge of failing and turned it into one of the nation's leading agricultural lenders and one of the state's leading financial institutions, is NorthWestern Financial Review magazine's 2018 Banker of the Year. The Banker of the Year program is sponsored by Bell Bank.
As chairman and CEO, Ness is reaping the rewards of a lifetime of work. Prior to landing the presidency at First Dakota in 1983, Ness worked four years at the OCC, seven years in Mitchell and two in Volga. In nearly 35 years at First Dakota, he has hired the right people, strung together a series of savvy acquisitions, built a culture of decisiveness and fun by leading and delegating, brought his three sons into the bank, built the nation's 38th largest ag loan portfolio, won the respect of his community by giving back time and treasure, and encouraged employees, customers and students to make the most of what they have. Ness, 72, has had a major positive impact on his bank, his community and his industry.
Ness "regularly provides the inspiration needed for things to happen in the Yankton community," said Robert Stephenson, who joined the bank in 1996 and became its president in 2010. Speaking at a ceremony where Ness received an honorary degree from South Dakota State University, Stephenson continued: "While these are often activities that Larry sponsors personally with his wife, Diane, or with monetary pledges provided by First Dakota National Bank, Larry also almost always plays an additional leadership role in publically promoting the event or activity and calling on and or inspiring others to do the same." Stephenson cited the Yankton United Way and Yankton Area Progressive Growth fund drives as examples.
"When Larry and Diane came to town, First Dakota had 35 employees. Today it has 370,"
commented Denis Fokken in a ceremony earlier this year when the Nesses were named Yankton Citizens of the Year. Fokken, who worked at the bank for 41 years and continues to serve on its board of directors, retired earlier this year as chief financial officer. "Larry and Diane's personal generosity is well documented in some cases, not known at all in others. They do not seek the limelight or the recognition. They give because they see needs and want to help out. They have been quiet donors more times than you can imagine."
"Larry is a visionary, a big picture thinker," commented son Rob Ness, the bank's current chief financial officer. "He is always interested in the next big deal. He is not afraid to take risks."
Responding to a challenge
The Minneapolis-based Star Tribune ran an article in April 1983 that caught Larry Ness's eye: It named a few banks it said would fail by the end of the year. The agricultural crisis was underway in rural America, taking down farmers and bankers across the Midwest. First Dakota was one of the banks speculatively named by the newspaper. Owners of the bank were looking for a new president to set things right. The bank, which had assets of about $40 million, surprisingly had fewer than $800,000 in ag loans, and those weren't the problem. The bank's non-performing loans were in the commercial loan portfolio. Ness had examined the bank two or three times when he worked at the OCC; although the bank was operating under a cease and desist order, Ness saw opportunity and took the president's job and its $45,000 annual salary.
Ness joined First Dakota in August 1983, and worked quickly to turn the bank around. He focused on workouts, recovering many loans that regulators had earlier required the bank to write off. He also hired Jim Ahrendt as chief lending officer and Dennis Everson as an ag lender. Ahrendt tightened the bank's commercial underwriting policies, hired lenders and built up a strong commercial lending department. Everson got in his car and called on farmers when most other bankers stayed off the farm. With the ag crisis in full force, most banks backed away from ag loans, which left many good credits available for Everson and First Dakota to finance.
Over the years, Everson built a world class ag lending department, leveraging Farmer Mac, a tool that became available in the late 1980s that let banks sell farm loans into the secondary market. Everson built on the Farmer Mac foundation by creating a new department at First Dakota called Dakota Mac, which gives lenders a way to make long-term ag loans. Today, Dakota Mac offers lenders at First Dakota and other ag banks a valuable option for making deals that otherwise might not be bankable.
"I wish I could say it was difficult, but it really wasn't," Ness said of turning around the bank. "There were a lot of things to do, but it went easier than many people expected." When it comes to the success of the bank, Ness is quick to credit the people around him, including Ahrendt, Everson, Fokken and Stephenson.
In those early years, the owners of First Dakota National Bank were happy to accommodate Ness's desire to buy bank shares as fast as his salary would allow. The price was $425 per share. By 1988, Ness had pulled together four other people who formed an investment group and a holding company to buy out the bank. They were board members who saw up close what Ness was doing for the bank and believed in him enough to back him financially. In due time, Ness bought more shares and by 1995, he bought out all four partners to gain control of the bank.
Acquisitions
By 1988 the bank was running smoothly and the other bank in town, American State Bank which was twice the size of First Dakota, failed, largely due to fraud that resulted in jail time for the bank's leader. Ness, who had been watching the situation unfold, approached the FDIC, whose agents had been swarming about American State for months. They worked out a loss-share agreement where First Dakota agreed to put up
$3 million in capital and the FDIC gave First Dakota $4.2 million to take over the bank. Upon completion of the deal, First Dakota went from being a $60 million bank to a $120 million bank in a single day.
Using many of the workout techniques that had worked so well a few years earlier when Ness arrived at First Dakota, the bank was able to recover many of the loans American State Bank had written off. The recoveries went so well, Ness said First Dakota was able to return all $4.2 million to the FDIC, in additional to collecting a lot more that went straight to the bank's bottom line.
"Larry announced at an officers' meeting that he wanted to make a bid on American State Bank," remembered Fokken. "Everson and I were a little nervous about that, but he did it and he succeeded and it turned out to be one of the best things to ever happen to First Dakota."
Shortly after the acquisition, First Dakota filed a lawsuit against the St. Paul Fire & Marine insurance company for refusing to pay claims against directors' and officers' liability policies related to American State Bank's failure. Cilia Miner, who currently serves on First Dakota's board of directors, remembers working on that case.
"It was a very complicated suit," Miner remembered. "It was in federal court; we had 600 to 700 exhibits. It turned out the former owner of the bank had something like 21 shell companies and he was moving money around between them. It was corporate kiting. The insurance policy would only pay if we could prove the owner deliberately intended to harm the bank. It was a hard thing to prove.
"The jury trial went three and a half weeks," Miner said. "It was so complicated I worried members of the jury might not understand all the details. It was very possible they would rule against us.
"While the jury was out, they offered to settle, for pretty much the entire amount," Miner continued. "We were all in shock when Larry declined."
"I didn't even think about it," Ness said. "I said we'd wait until the jury came in."
The jury ruled in favor of First Dakota, just as Ness expected. There was an appeal and by the time the award was paid with fees and interest, the payout was more than double what it would have been had Ness taken the original settlement offer. "That turned out to be a pretty good deal for us," Ness summarized.
"That incident gave me pretty good insight into Larry," Miner said. "He's not afraid to take risks if he has had a chance to evaluate the situation."
Over the years, there have been many other deals.
In 1992, First Dakota purchased McCook County National Bank in Salem, S.D. The local family that owned the McCook County National Bank chose to sell to First Dakota rather than to Wells Fargo, which offered to pay a premium, because the McCook owners wanted it to remain a community bank, Ness said.
In 1995, First Dakota acquired branches in Parkston and Wagner, S.D., from First Federal Savings and Loan in Beresford. Eighteen years later, First Dakota bought the financial institution, which by then had changed its name to Bank 360. Because there had been legal troubles around the 1995 deal that left a sour taste for some of the ownership in Beresford, the institution wasn't even going to let First Dakota make a bid in 2013. Ness reminded the leadership of the mutual institution that it had a fiduciary responsibility to its owners, who in theory were all its customers. Ness invited the Beresford leadership to come to his bank and meet the First Dakota team. After a day of tours, briefings and discussion, Ness felt sure the Beresford ownership would take their bid, realizing First Dakota offered its owners the best deal – that is locally committed ownership. Indeed, the Beresford institution leadership chose to sell to First Dakota.
In 1999, First Dakota opened a de novo branch in Mitchell, hiring local bankers from a competing institution. Today, "we control ag lending, commercial lending and real estate lending in Mitchell. There is no question about that," Ness said, admitting his ego comes out sometimes.
In 2002, the bank acquired branches in Chamberlain and Kimball, S.D. – branches which became available when Wells Fargo was forced to divest some assets upon acquiring Marquette Bank.
In 2003, the bank opened a branch in Sioux Falls. Michael Ness had been working at a bank in Lincoln, Neb., when he came back to work with his father in October of 2002. He talked to "people on the streets" in Sioux Falls for six months prior to the branch opening. Father and son pursued talent from a long-established bank in Sioux Falls and six of them came to work for the de novo branch. Michael Ness continues to manage First Dakota's Sioux Falls business.
In 2009, First Dakota executed another unique deal with the FDIC. BankFirst, which was based in Sioux Falls but had a Minneapolis office, failed. In a purchase and assumption agreement, Alerus Financial of Grand Forks, N.D., acquired BankFirst, immediately divesting its Sioux Falls office to First Dakota. Most of the failed bank's troubled assets went to Beal Bank Nevada, a Las Vegas company that specialized in stressed loans. For First Dakota, it was a great way to pick up a substantial sum of deposits in the competitive Sioux Falls market. Ness said that although First Dakota immediately lowered the interest rates it paid on those deposits, many of the depositors stayed with the new owners. "Those depositors in California and Massachusetts stayed because they liked what we did," Larry Ness said.
In 2015-16, First Dakota established itself in Pierre, the state capital. First, it purchased the Pierre branch of Home Federal Savings Bank, which was based in Sioux Falls. Then, First Dakota purchased the Dakota State Bank in Blunt, which had a branch in Pierre. First Dakota combined the Pierre offices, and furthermore supplemented its team by recruiting experienced bankers from the competing American Trust of Wessington Springs, which also has an office in Pierre.
Each acquisition boosted the bank's size. Today the First Dakota franchise consists of 19 full-service offices in 14 South Dakota cities, in addition to six loan production offices, of which three are in Nebraska.
People first
Ness said he has surrounded himself with good people and that has made all the difference. He notes that he doesn't make employees sign employment contracts. "They can leave anytime they want, but we never have turnover," Ness said. "Headhunters call my people all the time. There is nothing to keep them here, but we have a lot of fun. It's a great place to work because we decide to do the right thing and then do things right. Consequently people are happy working here."
"Larry has an amazing gift for being able to attract talented people to work with him and to inspire them to expand themselves beyond their areas of comfort," Stephenson explained. "He is a highly respected coach in the bank and the community.
"The growth and success at First Dakota since he arrived in 1983 is directly attributable to his leadership," Stephenson said. "Two of his mottos are 'surround yourself with people smarter than you and listen to them,' which fits closely with the other, 'hire good people and stay out of the way.'"
Everson elaborated: "We all shared the dream and he was willing to share the rewards that went with it. That was part of the secret sauce.
"He has the ability to identify great talent. He's a delegator. He gives you the rope to climb mountains and he supports you." Everson added that while Ness is good at planning, his real strength is execution.
"Larry has always empowered others," said his son Aaron, the bank's executive vice president. "He gives people running room to experiment. People appreciate that … Larry likes to sit back at meetings and let everyone else do the talking. Then, when he does talk, people sit up and really listen to what he has to say."
Based on her experience working with Ness on the board of directors, Miner concurred. "He is a good listener. He asks good questions, he has got good people and he respects them," she said.
Everson offered an anecdote he said shows what kind of person Ness is: "An employee of our bank left to go to work for another bank years ago. He recently fell into bad health and Larry heard about it. He responded by sending an email to everyone at First Dakota, telling them that so-and-so was having a tough time and he encouraged everyone to send him a card to brighten his spirits."
Products reflect commitment
Rob Ness recalled that following the recent financial crisis, First Dakota created a special program for people who lost their jobs. Yankton, with a population of about 15,000, is a manufacturing hub and was hit hard by the great recession. "We created a loan program where we set aside $3 million to make unsecured personal loans up to $3,000 to people who had lost their jobs," Rob Ness explained.
Most recently, the bank has launched a program called "Keep Farmers Farming." It is a fee-based advice service where a consultant sits down with family members in a farming household and works through the difficult issues, such as succession planning. They take a hard look at the personal and financial factors which influence the farming operation. The point of the program, Ness said, is to help farm families deal with change.
The bank also has a beginning farmer program, specifically for farmers under the age of 35. Farm couples go through the program together. It's a year-long effort where all aspects of a farming operation are studied. Perhaps most importantly, program participants get to network with successful farmers in the region. These new relationships can prove valuable for years to come when advice is needed to deal with new situations. Ness said he sees couples come out of the program with confidence and zeal about making the most of their farming careers.
Ness said some of the most important work he has done over the years is say "no" to a loan applicant. "It's tough at the time, but I have had spouses come up to me years later and thank me, saying, 'You saved our marriage, you saved our family.' If someone is not going to make it in a business I think it is better for them to get out while there is still something to sell so they don't end up with nothing."
A willingness to change is essential to the longevity of any business, Ness said, reflecting on area businesses that didn't make it. He pointed out the window from his fourth-floor office in downtown Yankton to an empty building across the street. He said it used to house a bustling department store that was owned by a local family. "They were a big deal, with stores in Sioux Falls, Des Moines and other places. But it didn't work. Things changed and they had to get out of the business. You can look around and see other businesses in that same situation.
"I just hope we stay forward thinking enough to recognize our mistakes when we make them and be willing to make changes for us and our clients, and if we do, we will be here and so will our clients. That's our job."
Ness acknowledges the significance of technology in the delivery of banking services, saying he doesn't understand it all but has good people on his team who do. But he understands the challenges facing the banking industry due to customer expectations with respect to technology threatening the status quo. "What makes me think there is going to be banking as we know it in 10 years?" Ness asked rhetorically. "Why would I think that? Whatever it is, I hope we are a part of it, but it might not be anything like what we've got today."