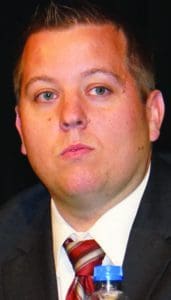 Regulators are generally upbeat about bank conditions throughout the Upper Midwest, said representatives from the regulatory agencies who participated in a panel discussion at the 37th annual Bankers Seminar hosted by the Eide Bailly accounting and consulting firm Nov. 2 in Mankato, Minn. Ag lending, growing concentrations of commercial real estate loans, cybersecurity and liquidity are the issues regulators from the State of Minnesota, the Office of the Comptroller of the Currency, the Federal Reserve Bank of Minneapolis, and the FDIC said raise the most concerns.
"We see a relatively strong banking environment. The problem watch list is currently at 12, which is very low, and I expect to have no 4- or 5-rated banks at the end of the year," said Max Zappia, Deputy Commissioner of Commerce for the State of Minnesota.
"We are starting to see specific banks with some genuine liquidity concerns," Zappia said. "What we think this means is we are moving from a situation where we had excess liquidity years ago to normalized liquidity. So maybe what we are in now is considered a tighter liquidity market."
Zappia, who has been deputy commissioner for three months, said a change in the M&A market is emerging in Minnesota. "For years, we saw you could just buy a bank or buy a branch if you wanted one. Now, we are seeing that is less the case," Zappia said. "We are still seeing more branch purchases and new branches. Nationally, there is even talk about a de novo appetite, which probably indicates the opportunity for purchases is going away."
Jay Branger, assistant deputy comptroller for bank supervision for the Minneapolis and Fargo field offices of the OCC, said his examiners have been conducting "full scale IT exams in our banks." He said the results have been mixed. Vendor management and information security programs, including patch management, are emerging as trouble spots. "Within our Central District, we've seen a significant increase in the number of MRAs related to IT," he said.
The OCC is looking closely at credit underwriting practices, Branger said. "We are starting to see some slippage throughout the country in underwriting, primarily in controls and policy," he said. While ninety percent of Branger's banks have strong internal policies, he said some fail to adhere to their own policies.
Branger added that in smaller communities, issues are emerging with management and ownership succession.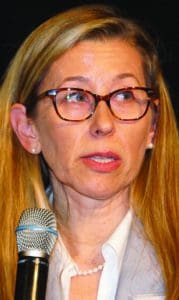 Chris Wangen, assistant vice president in the division of supervision, regulation and credit at the Federal Reserve Bank of Minneapolis, called cybersecurity the top concern. She urged bankers to put incident response plans in place and to test them.
Wangen also called ag credit a major concern for the 56 state member banks and 550 holding companies regulated by the Federal Reserve Bank of Minneapolis.
"Consumer compliance is the third-largest risk, mostly compliance program management," she said.
Wangen also told bankers the Federal Reserve is seeing "some issues with UDAAP." She said they come up primarily in connection with "marketing and pricing strategies for some of the consumer products." Furthermore, she said issues related to the Bank Secrecy Act and OFAC compliance are of heightened concern, as well as real estate lending in the Twin Cities.
James LaPierre, regional director of the FDIC's Kansas City Region, said his top three concerns are: agriculture, liquidity and cyber security. He said the liquidity concerns are related to the ag situation in many communities. As falling commodity prices force farm borrowers to use savings to fund their operations, and the demand for ag credit increases, fewer deposit dollars remain available to fund new loans.
"Unlike other risks which seem to ebb and flow, I can't imagine cybersecurity won't remain important to us, because I don't think we are going back to the age of paper and pen," LaPierre said. "We are not going to hand in our iPhones."