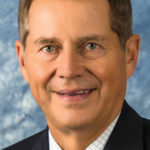 Alan "Al" Tubbs, chair of Ohnward Bancshares, Inc., Maquoketa, Iowa, is the 2020 recipient of the American Bankers Association's Bruning Award.
The Bruning Award is given to banking leaders who've demonstrated longstanding dedication to providing financial guidance and support to farmers, agricultural businesses and small communities in rural America.
"It's remarkable to have my past work in the agriculture and financial industries recognized," Tubbs said in a news release. "Agriculture is where I've grown up and the largest segment of our rural economies. Our bank has always done all we can to support the viability and profitability of agricultural business and industry."
Tubbs is a second-generation banker with almost 50 years of agricultural banking experience. Raised on a grain and livestock farm in eastern Iowa, he spent a short time teaching agricultural finance at Oklahoma State University before deciding to return to Iowa to begin his banking career as president of First Central State Bank in DeWitt.
Tubbs served the ABA as chair of the Agricultural Banker's Division in 1983 and chair of the association in 1991.
During the 1980s farm crisis, Tubbs served on USDA's Agricultural Credit Advisory Committee where he helped establish a program to share among the producer, the lender, and the government the incredible loss of income and capital in production agriculture. The program helped stem the tide of declining farm real estate values, stabilizing the farm economy and helping farmers get back on their feet.
Tubbs has a doctoral degree in Agricultural Economics and Business from Cornell University, Ithaca, N.Y.