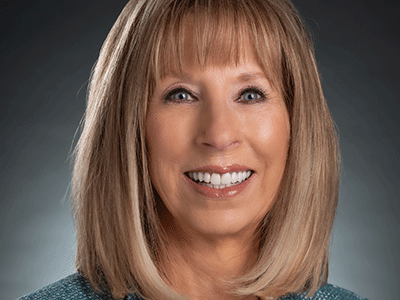 From Brownie Scout on up, Becki Drahota has always put 110 percent into everything she's done. 
"It's evidently impossible for me to be part of an organization if I can't be fully engaged in it," said Drahota, founder of Mills Marketing, board chair of Spirit Lake, Iowa-based Bank Midwest, and one of BankBeat magazine's 2021 Amazing Outside Directors. "I'm not good at sitting on the sidelines."
Forty-five years ago, this mentality meant starting her own marketing firm at age 25 when marriage brought her back to the Midwest. As a board member at Bank Midwest, it meant heading the audit committee and, as of late January, becoming board chair — asking the right questions along the way.
After observing how naturally Drahota acclimated to the audit committee chair role, Steve Goodenow, then president and CEO of the now $1 billion bank, said the decision to appoint her as chair of the board was an easy one. "It's not as much about being a banker as about being able to draw on others to ask questions," he said.
Bankers tend to get accustomed to what has worked in the past, Goodenow said. "It's going to be nice to have someone who interacts with our industry differently and sees it from a little bit of a different angle … whether it's our digital strategy or how we're approaching growth in the marketplace."
When the bank's mind was thick in thought with PPP heavy lifting, Drahota was the board member asking about how to stay relevant amid big-bank innovation. She was the one to ask about Goldman Sach's "Marcus," Goodenow said. 
"Becki challenges us because she's watching the financial services industry from 30,000 feet," Goodenow said. "Her questions help us really think about strategy and what we need to do to try and keep our little independent company independent for a long time."
But even with the zoomed-out perspective of a marketer and the up-close scrutiny of an audit head, Drahota has gotten to know the Bank Midwest team just as well. "They have a culture of trust and respect," she said. "It makes it easy for people like me to be on a board where there is a culture that invites candor." 
This allows the bank to have a sense, not of complacency, but of urgency to improve and adapt, Drahota said. "I have such an admiration for the bank's ability to not only be agile, but to be anti-fragile," she said. "When you have a high level of trust and the infrastructure is strong, then you can put on your Superman suit."
But Drahota, first and foremost, is a marketer. So when Goodenow appointed Drahota to the helm of the audit committee, she thought she was being hazed. The prep for her first meeting as chair required a dive into 200 pages of audit materials. 
"It was the smartest thing they could have done," she said. Drahota dug into the weeds and began to understand the level of scrutiny and compliance that's necessary in the banking industry. 
"Audit taught me that not taking care of the little things … becomes big things," Drahota said. "The audit process makes sure that the little things stay little and get fixed."
And Drahota took time to understand the details. She utilized the educational tools the bank offered, attending conferences with leadership, comparing notes and asking questions.
She sat with freshmen audit committee members at informational sessions "and asked the questions that I was too embarrassed to ask … and then spent several days really getting a deeper understanding of what my role was."
"When you're looking at 200 pages, it's hard to understand what's important." However, Drahota would tell you that she doesn't always read every data point in every report before a board meeting. She knows what to look for, what's significant, and she's always prepared with questions and a fresh perspective, Goodenow said.
When the board recently welcomed a handful of 30-somethings, Drahota offered to have pre-meeting conversations, and made them a cheat-sheet of important terms, ratios and acronyms. "I tried to include all the things that had confused me from the beginning, and taken me awhile to get my sea legs."
The board's agenda is also undergoing renovation to increase efficiency — keying relevant items in the board's reference book that would be addressed at the meeting. "Especially as a new director, you feel overly-responsible and think you need to know everything and read everything," she said. The new meeting design would include more of a guided agenda, "so we can stay talking about the things that are important."
The inauguration of newbies is a part of leadership's pursuit to compose the board of members beyond what's stereotypical, Drahota said. "Bank Midwest has been very intentional about having the composition of [the board] represent the type of skill sets and perspectives that we need to be successful for future sustainability." 
For instance, when the bank recognized the board was lacking in cyber expertise, Goodenow recruited and ultimately hired a cyber professor as a board member. "Cybersecurity has gotten to be so complicated," Goodenow said. The Bank Midwest board members tended to have stars in their eyes when talking about firewalls and data protection, Goodenow said. "We wanted to make sure that we had someone in the boardroom who could challenge a management team or an outside vendor about their findings."
And as the bank prepares for succession and onboards younger members, Drahota gives the advice to young directors that she would have given to herself at 25 starting a marketing business.
"Never stop learning, and don't be afraid to admit that you don't know something," Drahota advised. "Being hungry for understanding new things keeps us sharp. It keeps us engaged. And I think the moment we start feeling complacent, that's probably the beginning of a cycle that we don't want to be in."
 When Drahota moved to Iowa from Denver, she left her first job out of college at a marketing firm to start her own. The last client she had in Colorado was the one who helped her make the entrepreneurial migration. 
It was a good trade-off, Drahota said. She worked about 20 hours a day for them, and they were there to teach her how to start a business. "All the mistakes a 25-year-old would make — I made them," Drahota said. "But … I worked really, really hard."
She put in 110 percent.