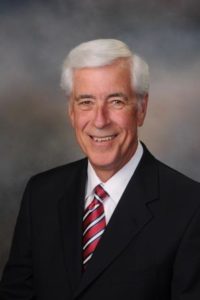 Veteran Iowa banker Thomas Pohlman has resigned as chair of Ames National Corporation after a 5-year stint. He will remain on the board through April 2023, when he reaches a company-mandated retirement age.
Patrick Hagan replaced Pohlman as chair on May 12. He has served as an ANC director since 2017 and as director of its affiliate Boone Bank & Trust Co., since 2015. He retired in 2019, last serving as senior vice president and treasurer of Fareway Stores, Inc., a privately owned company operating grocery stores in Iowa, Illinois, Kansas, Minnesota, South Dakota, and Nebraska. Prior to joining Fareway, he served as an executive officer and director at several community banks in Iowa.
"We are thankful for the leadership that Tom has provided the Company and its affiliate banks as CEO, Chair, board member and President of First National Bank over the past 22 years. He has been a great mentor and sounding board for our management teams."
Pohlman joined the board of the Ames, Iowa, company in 2007. He was previously CEO of the company, retiring after 11 years in the role in 2018. A former chair of the Iowa Bankers Association, he first joined ANC subsidiary First National Bank as a senior vice president in 1998.
The $2.1 billion Ames National's subsidiaries include First National Bank, Ames; Boone Bank & Trust Co., Boone, Iowa; State Bank & Trust Co., Nevada, Iowa; Iowa State Savings Bank, Creston, Iowa; Reliance State Bank, Story City, Iowa; and United Bank & Trust Co., Marshalltown, Iowa.