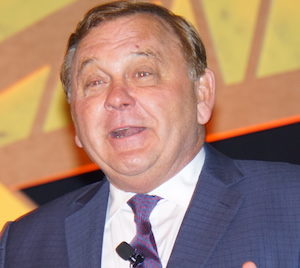 Satisfied customers are loyalty neutral and will leave one bank for another when offered an elevated customer experience, said C. Richard Weylman, author of "The Power of Why." Weylman, speaking at the Nebraska Bankers Association's annual convention May 3 in Omaha, Neb., offered bankers practical steps to connect with customers the way top retailers do.
The truth about companies that "disrupt," Weylman said, is simply that they connect with people the way people want to be connected with, and they do it along every point of contact. Top companies "make things easy for the consumer — and they make emotional connections."
Weylman's conclusions come, he said, from face-to-face interviews conducted with individuals between the ages of 26 to 62 from all economic backgrounds. When he asked his survey participants what they wanted from a financial institution, he found 83 percent of people said they want total engagement.
Asking bankers to forget for a moment about their competition and the pressure to go digital, Weylman asked, "How important is 'good' service? It's a minimum requirement."
With choices being ubiquitous, the reality for banks is that 20-30 percent of satisfied customers will take their business elsewhere. In order to avoid that inevitability, Weylman offered ideas, from minor tweaks to an online banking interface to hiring approaches that could make a big difference to today's customers.
Share experiences. In the social era, people share both positive and negative experiences. Banks should be more open to sharing all of the good they do in the community, he said. Doing so allows customers to tap into a bank's brand equity. "People want to feel 'at home' in their bank. Home is where people feel unguarded and comfortable — absolutely in the right place," Weylman said. "By letting them know you support the community or the home team, when you put that information right on the web site, well of course they'll feel 'at home.'"
Too many banks, he said, tout products on their web sites when they should be talking about their relationships.
Value the customer's time. In a demand-driven economy, experience is a core part of a customer's perception of value, he said. "One reason people don't come into the bank is they don't value the experience enough for how much time it takes. One of the biggest complaints I hear is 'when I walk into a bank no-one knows me.'"
Here is where technology can be a banker's friend. Weylman suggested converting "account" pages to something akin to "fan" pages on a bank's web site. He also encourage all communications to be as personalized as possible.
Build a service culture. "In banking it's always the little things, like how you make people feel," he said. Most of the industry is not focused on the experience of banking but rather on the transactions. An elevated customer experience leads to an emotional chemistry; it creates stronger relationships and opens the door to repeat business and brand advocacy.
Weylman cautioned bankers away from believing that elevating the customer experience requires things such as setting customer service policies and procedures, investing in hi-touch technology, reducing complaints, creating efficiencies, or building an app… "All of these things are tactical and transactional; it's the slow road to going out of business. Instead, create an emotional reaction in people. How they feel will be the sum of all your interactions with them. People have a need to feel cared about," he said.
The path toward executing total customer engagement requires leadership from management, the formation of a multi-disciplined team to assess every customer interaction point, and hiring the right people, "nice" people. During training, he suggested setting expectations amongst staff in areas such as attire, verbal and social interaction, even eye contact. "Educate and then re-educate personnel," he said. "Don't say 'this is how we'd like to have it done;' say, 'this is the way it's done.'"
When you give confidence to your employees, Weylman said, it will pour over to the customer. And people will pay for it