Green Bay, Wis.-based Associated Banc-Corp appointed Derek Meyer as CFO, effective Aug. 1, and Bryan Carson as chief product and marketing officer, effective July 18. 
Meyer is replacing Christopher Del Moral-Niles, who announced his planned retirement from the bank earlier this year at the $35 billion bank. Meyer has more than three decades of experience in banking, including 21 years in finance and 12 years in retail and commercial positions. Most recently, he served as corporate treasurer of Huntington Bank, Columbus, Ohio. During his 22 years at the bank, Meyer held senior leadership positions.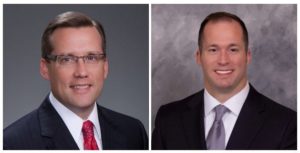 Associated Banc-Corp President and CEO Andrew Harmening described Meyer "as a strategic financial leader with superb business acumen and a passion for team building. His superior track record of achievement across financial functions and deep understanding of the banking industry will be invaluable to our organization."
"I am honored to be appointed CFO at a time of significant opportunity for Associated," Meyer said. "I look forward to working with (Harmening), the executive leadership team, and the bank's talented finance team to help the company execute its strategic and financial priorities focused on value-added growth, investments and commitments to all stakeholders." 
 Carson has more than 30 years of experience in marketing, product development, pricing, analytics, and distribution within the financial services industry. Most recently, he was executive vice president of deposit products, customer segmentation and branch and ATM distribution at Huntington Bank. He served as the bank's chief marketing officer and senior vice president of deposit products and pricing. He held senior roles at JPMorgan Chase as marketing director and MBNA Corporation as a marketing, product and analytics department manager. 
Harmening said Carson's "leadership and oversight of the company's commercial, consumer, and digital product strategies will help drive our digital transformation initiatives, identifying new pathways for deposit and liquidity generation. We are confident he will help us deploy innovative solutions and deliver a best-in-class service experience to our customers.
"I am excited to join Associated, a premier financial brand in the Midwest markets and beyond, with an innovative platform and incredible culture of customer service," Carson said. "I look forward to working with the team to drive product and marketing programs to support the company's growth and evolution to a digital-focused banking leader."