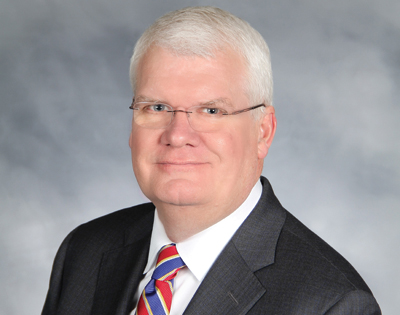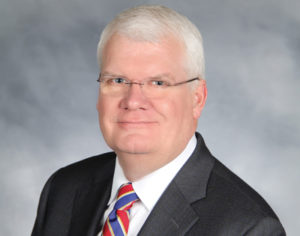 Editor's Note: Amazing Outside Directors are people who invest in the success of their local community banks by contributing skills, insights and analysis to bank governance, all while helping their institutions develop new relationships. BankBeat thanks program sponsor Eide Bailly for helping us tell the stories of these amazing individuals.
In 1993, Uniroyal Goodrich Tire Company announced it would close its Eau Claire, Wis., factory, costing the west central Wisconsin community 1,300 jobs. Not long after, SSI, a supercomputer startup bankrolled by IBM that was expected to add 1,000 tech jobs to Eau Claire, failed instead. It was a one-two punch that hobbled the traditionally blue-collar community of 65,000 just as Jeff Halloin was moving his family, including two-year-old triplets, back to town.
Halloin is being recognized by BankBeat as a 2019 Amazing Outside Director.
Halloin, now a business owner and attorney who serves on the board of Eau Claire-based Charter Bank and its holding company Charter Bancshares, had in the early 1990s been working in the finance and banking division of Chicago-based McDermott Will & Emery, one of the nation's largest law firms. It was the era of leveraged buyouts, and Halloin had learned a great deal about how businesses could be restructured. "It exposed me to creative strategic thinkers," the 56-year-old Halloin said of his time in Chicago. His experience was exactly what Eau Claire needed.
"I had been taught how to deal with those issues and how to think about how to reset," Halloin said. "Responding," he added, "is what I like so much about community banking."
Once Halloin settled into second-generation leadership of the family business, he got involved in public-private partnerships that were forming to recruit companies to Eau Claire. Halloin's Landmark Company develops and manages apartments and subsidized housing projects, along with some commercial properties.
Halloin's father, Robert, had been city planner and assistant city manager at one time, so strong relationships with leaders of governmental bodies and non-profit and private sector industries were already in place for him. Halloin joined working groups forged to find solutions to the town's economic woes. "We always believed if you do well by Eau Claire, Eau Claire does well by you," he said. "The covenant we had to make with each other was 'only we could fix it.'"
The town struggled from its geographic isolation: It is located closer to Minnesota's state capital than to its own, yet it's too far from the Twin Cities to be a commuter town. "We had to look for a uniquely Eau Claire solution," Halloin said. He joined leaders from the city, the chamber of commerce, and Xcel Energy, which operates a call center in Eau Claire. Added to their coalition were area banks, which pooled resources to provide capital for new projects. This was how Halloin first became acquainted with Charter Bank.
Halloin is "very strategic," said Brenda Johnson, chair of Charter Bancshares. "Jeff knows well how critical community banks are to the communities they operate in and is always looking for ways to have Charter better serve and support our communities."
"The word 'community' is important and instructive," said Halloin, who is bullish on the 20-year-long transformation of Eau Claire, where the blue collar class has stepped aside to welcome a new, younger creative class. The town is somewhat of a hipster hub today, offering opportunities to techies, entrepreneurs, artists and musicians, the latter drawn to the area because of the music program offered at UW-Eau Claire and because of the fame achieved by native son, musician Justin Vernon of indie band Bon Iver, who curated a music festival in town for the last four summers.
"Great things can happen if you are determined and if you are locally focused," Halloin said.
Eau Claire has caught some attention of late. Forbes named it one of the best places for business and careers. It was ranked in the Top Ten for the All-America City Awards. Yahoo Finance ranked Eau Claire among its Top Ten places to retire. And, NerdWallet named Eau Claire the fourth-best city in the nation to achieve work-life balance.
It's a transformation that's nowhere near complete, Halloin said. "You have to constantly reinvent, constantly be engaging," he said. "That's what makes it so exciting."
As the town has prospered, so too has the bank, in spite of competitive pressures from the "bigs" and credit unions. "If you're going to do well, you have to be incredibly responsive and needed," Halloin said. "And, that's when community banking shines, because we are close enough to it to adapt to customers' needs."
Good things happen when good people are engaged. When Halloin served on the board of the economic development commission, he said people would ask: When are we done?
"Never," he tells people. "You have to constantly reinvent."
Halloin credits the management at Charter Bank, which operates two branches in the southwest suburbs of Minneapolis in addition to its Eau Claire office, for doing an exceptional job recruiting and retaining talent. "We are the employer of choice."