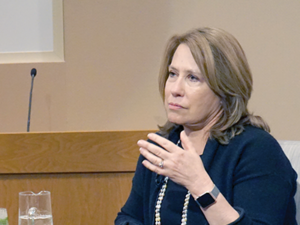 Former FDIC Chair Sheila Bair, a JFK Profiles in Courage Award winner and twice recognized by Forbes magazine as the "second most powerful woman in the world," shared a variety of opinions at the Banking Law Institute annual conference. Bair called on the U.S. Department of Education to do more to help college students understand the cost of borrowing. She even advocated for an alternative to traditional education financing.
"Kids just don't know; they don't have a sense for what the cost of their college degree will be. And the disclosures around how much debt they are going to have to take on to pay for that degree are terrible," Bair said. "For private lending, we have Truth in Lending; there is no Truth in Lending around student loans… It's a terrible non-transparent system; that's part of the reason defaults are so high."
Bair believes the Department of Education should adopt rules that require TILA-type disclosure on student loans. At a minimum, she said, they should include information such as a clear explanation of the amount that is being borrowed, what the interest rate is, and a good-faith estimate as to what the total cost of obtaining a particular degree will be.
Advocating for "Income Share Agreements," or ISAs, Bair said she likes systems which provide financial incentives to achieve common goals. Under the current system, colleges facilitate government lending with little incentive to match tuition and board costs with the value of the degree. Bair explained that an ISA would replace the traditional borrowing strategy with a system where the student receives a degree in exchange for an agreement to pay a percentage of post-graduate salary over a specified time period. While such a system alleviates a student of debt, Bair said it also incentivizes colleges to help students land good-paying jobs. 
Forum moderator Joseph Green, corporate counsel for TCF Corporation, asked: "Would such a system lead to the end of the French major?"
"I was a philosophy major," she said, "and then went to law school. I am glad I got the education I got. My philosophy major has served me well." 
Bair said she thinks it's smart to combine majors, such as biology with English, or math with art. The important thing is to understand the potential associated with each field of study. "I did not have my eyes open to my income potential as a philosophy major," Blair admitted.
Bair has written at least three children's books in addition to her tome on the financial crisis: "Bull by the Horns; Fighting to Save Main Street from Wall Street and Wall Street from Itself." Her most recent book, "Rock, Brock and the Savings Shock," is about saving; she is working now on a kids' book that will be about borrowing.