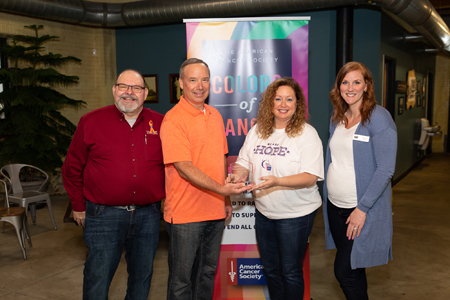 Associates from TheBANK of Edwardsville, Ill., hosted a "Colors of Cancer" campaign fundraiser to benefit the American Cancer Society earlier this month at the Old Bakery Beer Company in Alton. Nearly 90 guests attended the event, including employees, retirees, family and friends.
Mandie Ernst, senior manager community development of the American Cancer Society's North Central Region, was also in attendance and presented TheBANK with a crystal award for its fundraising efforts throughout the past year.
TheBANK's Rob Schwartz, senior vice president of retail banking, sang and played acoustic guitar as the headliner entertainment, and cancer survivor JJ Mueller, maintenance lead at TheBANK, was spotlighted as part of Madison County ACS's "Colors of Cancer" campaign.  
More than $1,500 was raised through the live and silent auctions, and guests also gave generous tips during Rob's performance to go towards the cause. Another $232.50 was raised through 50/50 ticket sales.  The net total earned for the ACS during the event totaled more than $3,400, with the Colors of Cancer campaign and TheBANK's Relay for Life team sharing the proceeds.