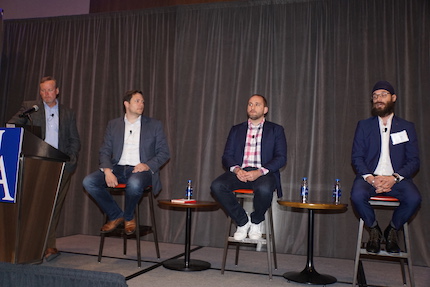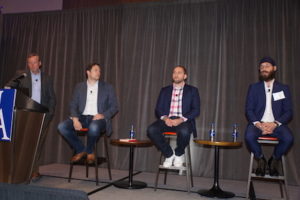 As the incumbent provider of financial services, banks are well positioned to keep customers despite behavioral preferences which trend digital. This is true even for community banks that have struggled to afford digital solutions. The community banking model is, after all, built on relationships first.
But incumbents can be unseated. To avoid this fate, community bankers need to think of fintech companies not as disruptors of their industry but as partners, said Kevin Tweddle, chief innovation officer of the Independent Community Bankers of America, speaking at the Bank Holding Company Association Spring Seminar in Minneapolis May 6.
Tweddle led a panel discussion on fintech that drew from ICBA's sponsorship of the ThinkTech Accelerator, which has led to technology startups creating solutions that are decidedly community-bank focused. Participating with Tweddle in the 90-minute discussion were Brian Bauer, managing director at the Venture Center, a fintech accelerator based in Little Rock, Ark., and the leaders of two of recent startup firms: Robert Johnston, president and CEO of cybersecurity company Adlumin, and Har Rai Khalsa, CEO and co-founder, of MK Decision, an online lending company.
Incumbency has its benefits, Tweddle said, but there are companies that have established names in the marketplace (because they turn up in people's Facebook and Instagram feeds) that are working hard to horizontally integrate products and services that compete with banks. Credit Karma was one of many such services, Tweddle said. "They are in your customers' brain space all the time.
"Ultimately, they are going for a death [of banks] by 5,000 cuts approach," Tweddle said.
Battling brands that have won space in the minds of consumers demands community banks compete on the field where the customer wants to play. And that means digital.  
The companies that participated in the ThinkTech Accelerator where chosen because they had great founding teams, they had validated problems, and they offered good solutions, said Bauer. More critically, banks played a key role in the advancement of the tech solutions the participating companies created. Forty-four bankers from 28 institutions visited the accelerator during the development stage to help point solutions toward their specific challenges, identified as: digital lending, cybersecurity, financial health and wellness, and generating deposits.
The challenges of cybersecurity are legion, said Johnston. From increased pressure from regulators, to IT people multitasking compliance, desktop support, and managing the technology ecosystem, including bank-specific technology, "you're spread pretty thin," Johnston said. Adlumin tackles the challenge by deploying technology and data science "to automate the regulatory and security requirements you face," Johnston said.
The value of the ThinkTech Accelerator, Johnston said, was not only providing the capital for the growth phase, but also providing access to capital to speed up the feedback loop during development.
Khalsa pointed to antiquated websites not optimized for mobile phones, paper intensive applications and judgmental underwriting processes as an obstacle for community banks. MK Decision has simplified the process by focusing on borrower experience that are mobile optimized, automated underwriting guidelines using a rules-based approach, and created end-to-end systems between the credit bureaus and the core processors. The result is a loan decision made in seconds, with benefits felt on both sides of the virtual desk.
The accelerator gave Khalsa's team important access to community bankers as it focused on user experience and critical insight into how community bankers prioritize their values when considering technology. Community bankers, he said, were more focused on creating efficiencies for their customers than ensuring their own back-end processes were efficient as well.
Just because customers demand digital doesn't mean the relationship isn't valuable. Tweddle encouraged bankers to transfer their affinity for relationship to the companies that offer fintech products. "We don't have the resources to focus on these problems and do it well," Tweddle said.
On the flip side, technology companies such as Johnston's and Khalsa's don't have the capital resources or the customers to guarantee their success. Yet. "We are in the early innings of this, Tweddle said. "Treat these companies the way you treat your customers."
Input from community bankers in the fintech space is critical to the development of products that fit the business model. The bankers who visited the ThinkTech Accelerator vetted the companies and asked good questions, Khalsa said. "Don't demean the power of your voice to be a part of the solution," he said.