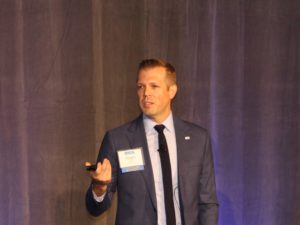 Community bankers should use data to modify physical branch settings as Covid-19 and increased mobile banking usage continue to transform the industry. That's according to a presentation from RSM Senior Manager Brandon Koeser during the Bank Holding Company Association's fall conference in Bloomington, Minn., earlier this month. 
Koeser cited a recent S&P banking poll that found more than half of respondents had visited branches less frequently since the pandemic began. Another 38.4 percent reported no change, and 52.3 percent said they would not change how they visited the bank in the future. Of those who had gone to a physical bank, more than half had done so to withdraw or deposit their cash and used an ATM, all tasks that can be handled remotely. Less than 8 percent received help for car, personal or business loans. Net branch closings continue to increase, from 1,423 in 2019 to 2,136 last year, rising again to 2,283 this year as of early October. There have been net decreases in the number of banks in Minnesota, Wisconsin, Illinois, Iowa, Nebraska, South Dakota, Ohio, Indiana, Michigan, Montana and Illinois. 
The S&P data, Koeser said, should be used by community banks to decide how many employees  — and specific skill sets — they need. Banks are already facing challenges in attracting employees due to ongoing labor challenges caused by the tight employment market. As some banks raise starting wages to $15 to $25 per hour, especially in more populous settings, Koeser said banks must decide whether mobile banking makes keeping frontline employees at those salaries unfeasible. To decipher a branch strategy, Koeser suggested analyzing data on transactions, traffic patterns and demographics. 
Bankers should weigh the costs, benefits and efficiency gains of introducing more technology into their banks, not the cost of individual transactions, he said. Branches must still be thought of as allowing for the convenience and ease consumers currently desire and as "community pillars" and "deterrents to new competitors," Koeser added, fostering a welcoming atmosphere similar to a coffee shop or repurposing space to create new uses. He also sees potential growth through community banks clearly outlining the importance of their organizations to the underserved.  
"Experiences don't just happen, they are created," Koeser added.