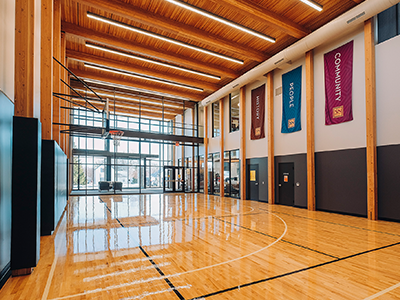 When State Nebraska Bank & Trust in Wayne first looked at rebuilding its Campus Branch on the north side of town, CEO Matt Ley knew it was an opportunity to do more than update the 1980s structure.
The bank bought some adjacent lots and decided to add leasable Class A office space to the building. But the branch was located in a semi-residential neighborhood, next door to the campus of Wayne State College, and Ley wanted a feature that would serve as a community attraction. 
"Chase is doing the coffee in the branch thing, and we didn't want to compete with our local coffee shops," Ley said. A cart in the lobby would have been a compromise, but Ley went searching for something a little more trailblazing. He found inspiration in a bank outside of Chicago which had incorporated a basketball court to its headquarters building in 2007. Wanting to include community members looking for a lower intensity option, SNB opted for a half basketball court which can also be used for pickleball.
The 14,000-square-foot building and branch were designed by the CEO's brother, Roy Ley of Hoke Ley, an architecture and interior design firm in Lawrence, Kan.
"Matt is a diehard basketball fan, and he wanted to create a unique public space that shared that vision with the community and the college," Roy Ley said.
A plethora of windows provide excellent sightlines for tellers — and sweeping views of Wayne State's Willow Bowl, an outdoor amphitheater. The building's conference room overlooks the court. The challenge was integrating the court into the building while preventing noise from intruding into the office space. An acoustic engineer stepped in to help, adding buffers and half-inch-thick laminated glass to muffle the court's noise.
The bank enlisted as much local help as possible, including Wayne's Otte Construction as the general contractor. The pandemic slowed construction a bit, taking crews offline and gumming up the supply chain. The drive-thru was originally slated to open in time for the fall semester; delayed a month, it opened on Oct. 1, 2020. The full branch opened in January, led by Ashley Rewinkel.
The court is reservable via an online Google form, and the bank also offers equipment. Pandemic precautions currently limit use to household groups or one-on-one pickleball games, but about 150 people had used the court by late February, Matt Ley said, which would hopefully increase once restrictions eased.
The bank's insurance agency has moved into the SNBuilding as well as an ag consultant and a title company. Wayne is the county seat, a town with a Division II college, lots of ag, and an industrial park. The SNBuilding adds a complement to those things for the town of 5,500 people situated two hours northwest of Omaha. "We're trying to be a progressive town in rural America," Matt Ley said. The Ley family has owned and run the $177 million bank for five generations, and community involvement has always ranked high on its list of priorities, he said.
Roy Ley also designed the bank's current headquarters in downtown Wayne. The original main office, built in the 1890s, had been destroyed in a fire in 1986. Twenty years later, SNB returned to the site in a building which echoed elements of traditional branch design, fitting seamlessly into the rest of Main Street while refreshing the concept for a new century. The two buildings have a different aesthetic vocabulary but similar DNA, Roy Ley said, including vaulted ceilings and enough windows to flood the interior with natural light.