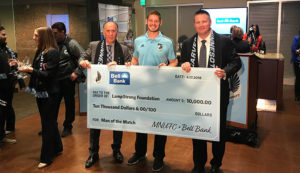 Bell Bank, Fargo, N.D., announced on April 17 it is entering into a 10-year partnership with the Minnesota United FC, a professional soccer team based in the Twin Cities. The deal allows the bank naming rights to the southwest gate at Allianz Field, the team's stadium currently under construction in St. Paul, Minn. The gate will be named Bell Bank Gate.
Additionally, the partnership extends Bell Bank's Pay It Forward initiative, begun in 2007, to players of Minnesota United. The Pay It Forward program allows Bell Bank employees to donate $1,000 annually to a charitable cause of their choice. Through its partnership, one player will be chosen the Man of the Match for each game and awarded $1,000 to Pay It Forward to his favorite charity.
Additionally, people who make a difference in the community will be highlighted at halftime of every home game and recognized as L'Etoiles du Nord (North Stars).
"The success of our bank's partnership with Minnesota United will be measured not by wins and losses, but by the people we impact along the way," said Michael Solberg, president and CEO of Bell Bank. "Together, Bell Bank and Minnesota United plan to find even more ways to have that positive impact."
Bell Bank is a closely-held financial institution with $4.7 billion in assets.
The Minnesota United has played in the Western Conference of Major League Soccer since 2017. Its new stadium is expected to be complete in March 2019.