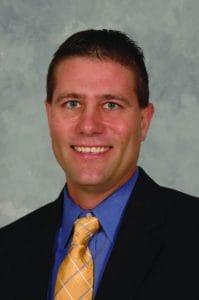 Editor's Note: Kraig Lounsberry will take over as president of the Community Bankers Association of Illinois on Jan. 1. Only one person has ever held the position, Bob Wingert for the past 43 years. Lounsberry spoke with BankBeat writer Douglas Farmer.
BankBeat: You've led the CBAI's government relations for 10 years, but the president's role has many other duties. What will be the biggest change for you?
Kraig Lounsberry: Budgeting is something I've never really done before. I've worked in a place where you had a budget, but I've never set one. This is a complex budget. It's $5.5 million annually, 20-plus employees. We have all kinds of vendor relationships, all kinds of tax issues. We have a great comptroller and accountant, thankfully, or I would be so unprepared it's not even funny.
BankBeat: What has surprised you most in the decade since you joined CBAI?
K.L.: What happened immediately in the crash was a big surprise. That forced me to learn way more about banking a lot faster than I expected. It probably helped me learn issues and figure out the process. I had never lobbied Washington, D.C., before. I had to come in and do that. Quite honestly, it probably pushed me out of my comfort zone. That would have taken three years to get to as opposed to a year.
BankBeat: What developed your community banking passion such that you came to believe what you are advocating?
K.L.:: My banking has always been at a community bank because you can go sit down and talk to the person. To me, it was an easy process. I'm a small-town kid; they're all small-town bankers, but the passion you don't get until you are around them and you understand a lot of these guys take three days out of their busy schedules to come to a convention because of their passion for community banking. Their passion, quite frankly, rubs off on you.
BankBeat: Will you keep lobbying at all?
K.L.: I will stay a registered lobbyist. We will hire another lobbyist but I will stay registered. As I tell the members and bankers, I'm different than Bob. There are things I'm good at that he wasn't good at. Lobbying I think might have been one of them. There are things he's good at that I'll never be as good at. Writing is probably one of them. He might be one of the best writers I've ever come across.
BankBeat: Are there any CBAI-specific changes on the horizon?
K.L.: When you follow a guy who has been doing this for 43 years, you don't want to go in thinking, I'm changing this, because it has worked pretty well for 43 years. Are there things that are going to change? Yes, but I don't have any right now. Maybe ask me in three years what might have changed.
BankBeat: Obviously, the driving ethos of the CBAI won't change, right?
K.L.: Unequivocally. I was recently speaking at an event and at the end, somebody asked, 'What do you think about the consolidation of the two trade associations [in Illinois]?' My answer was, I think it would be a bad idea. Community banks need their own voice. I have nothing against the big banks. If the big banks are successful in their own lobbying, that's great, but they can do that by themselves.
Does that mean we can't cooperate with the other trade associations? Absolutely not. When we agree on issues … we work together opposing legislation. That works fine. When we have differences, we have to be able to step aside and say, this is the community bank line.