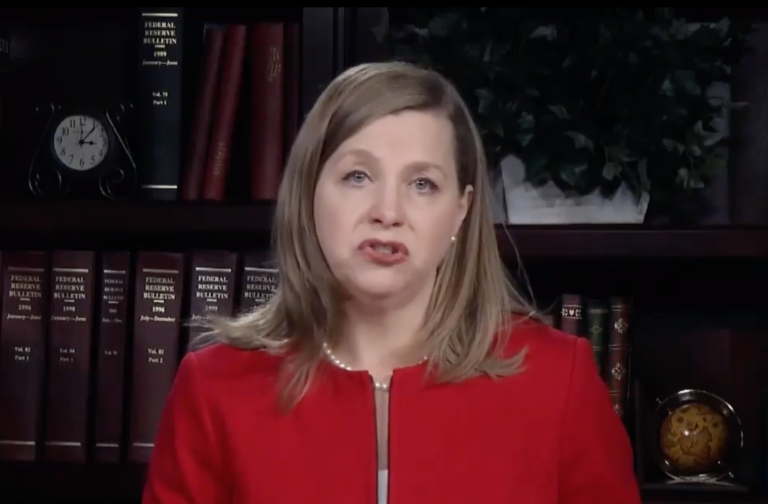 The Federal Reserve Board is putting an increased focus on renewable technology, according to a speech from Governor Michelle Bowman. The former Kansas state bank commissioner addressed community bankers about the Fed's approach to regulation and supervision at the American Bankers Association Conference for Community Bankers on Feb. 16.
Accessible innovation and tech integration, Bowman said, is essential to the future success of the community banking sector. "We are committed to developing a range of tools that will create pathways for banks to develop and pursue potential partnerships with fintech companies," she said. This includes more clarity on third-party risk management guidelines, a guide on sound due diligence practices, a paper on fintech-community bank partnerships and similar considerations.
Bowman noted technology's effect on competition and M&A. The board's framework for banking anti-trust analysis has remained largely unchanged in the past couple of decades, Bowman said. "I believe we should consider revisions to that framework that would better reflect the competition that smaller banks face in an industry quickly being transformed by technology and non-bank financial companies."
The Fed has since begun having conversations with community banks about its competitive analysis framework, with specific focus on the impact on small community banks in underserved communities.
"Many of the most important improvements to the Federal Reserve's regulatory framework involve tailoring rules to fit the size, business model, and risk profiles of community banks," Bowman said. 
Bowman noted the raised thresholds for banks to qualify for 18-month exam cycles, and to be exempt from risk-based capital rules, and for when an appraisal is required for residential real estate loans. She also noted the community banking supervisory consideration, namely Bank Exams Tailored to Risk (BETR) program, in which examiners identify higher and lower risk activities, ultimately streamlining the exam process for lower risk banks.
"These improvements in regulation and supervision have helped right the balance … between safety and soundness and consumer protection, on the one hand, and the ability to provide financial services and best meet the needs of their customers," Bowman said. "We have also considered the impact of our actions, seeking to revise rules that impose significant costs to community banks but provide limited benefit to safety and soundness, consumer protection, or financial stability."
One way to do this, Bowman said, is to promote consistency in supervision across the Fed's system –– in terms of safety and soundness, compliance and risk analyses. "We are actively working to improve the timeliness of providing banks with consumer compliance exam findings," Bowman said. "Further, we are exploring ways to strengthen our ability to understand, monitor, and analyze the risks that are affecting community banks."