St. Paul, Minn.-based Bremer Bank marked the opening of its new branch in the East Lake Street neighborhood of Minneapolis during an Oct. 11 ribbon-cutting ceremony.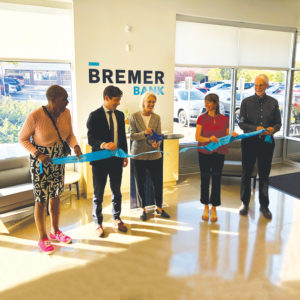 The 3,000-square-foot branch employs six staff and includes an open floor plan with partner tables. The building also includes a community room. 
According to the bank, the branch will help it better serve the Black, Indigenous, Latino, Asian and other businesses and communities of color, work outlined in Bremer's initial racial equity action plan. To mark the opening of the branch, Bremer donated $50,000 to the area nonprofit Latino Economic Development Center for business development and technical assistant services.   
 "This new branch provides us with an increased opportunity to provide our capabilities as a community bank to our Lake Street customers," said President and CEO Jeanne Crain. "Bremer looks forward to being a committed and trustworthy partner to the residents and businesses in this area through our work as a relationship and solutions-oriented financial institution."