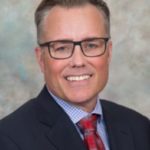 St. Paul-based Bremer Financial Corporation recently named Travis Hoaglund its executive vice president of financial solutions, effective immediately.
Hoaglund joined Bremer in late 2017 as insurance president, following a nearly 20-year career at Federated Mutual Insurance. During his time at Bremer, Travis has demonstrated exceptional leadership in motivating and inspiring partnerships.
As EVP, he joins Bremer's senior executive team, and is responsible for leading Bremer's mortgage, insurance, wealth and institutional advisory businesses.
"There is a tremendous opportunity for us to deepen current customer relationships and to build new ones, and Travis's work will be critical in that effort," said Bremer Bank President and CEO Jeanne Crain. "Travis bolsters the strategic talents of our senior executive team, helping both our customers and Bremer achieve their goals."