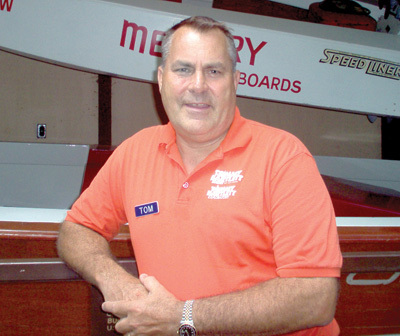 Editor's Note: Bank directors need to be the kind of people who not only know their banks, but also have an eye for the trends and opportunities that will help their banks stay relevant and grow while balancing risk. It's a tough job, and this year's five Amazing Outside Directors have demonstrated their ability to rise to that challenge. This is one of five profiles to be posted on BankBeat. We recognize and thank our Amazing Outside Directors program sponsor Eide Bailly for its support.
It took only two hours for Lake Delton's 700 million gallons of water to drain across a breached highway into the Wisconsin River. The calamity occurred after torrential rains in June of 2008 caused a dam to collapse. When the storm cleared, all that was left of the lake located just outside of the Wisconsin Dells was its muddy bottom. Without the lake, the area's billion-dollar tourism industry was imperiled.
"There were 21 businesses that were going to be lucky to survive one summer," recalled Tom Diehl, owner and operator of the regionally-acclaimed Tommy Bartlett Show. "If we couldn't get the lake rebuilt by 2009, there were going to be 21 businesses that were going to be history."
Obviously, the Tommy Bartlett Show, with its high-flying water skiers, was among those entirely dependent upon the lake. A 5,000-seat stadium facing mud is not exactly a tourist draw.
A director at the Bank of Wisconsin Dells since 1990, Diehl's time at the bank and his vested interest in the lake led him to a unique leadership moment in which he was solely-positioned to help all those businesses. BankBeat is honoring Diehl as an Amazing Outside Director for 2018, along with four other directors.
At the board meeting following the breach, Diehl proposed a plan in which the bank would not discuss foreclosing on any of those businesses for one year; it would ask only for interest payments. If that was too much for a business to manage, the bank would find another way to keep the business afloat. For at least a year, Diehl proposed, the bank needed to take on those risks.
"In our tourism industry, we had to help them out," said Jon Bernander, president and CEO of the Bank of the Wisconsin Dells. "We had to step up and say, whatever way we have to do it, we have to maintain what we have built here."
The economy at the time was similarly imperiled as the Great Recession was taking hold. Bernander admitted it would have been easy for some people to just throw their arms skyward and walk away. "A lot of them survived to tell the story," he said.
The Bank of Wisconsin Dells held loans with the vast majority of those businesses, including bars, restaurants, marinas and hotels. Foregoing principal payments represented a notable hole in its balance sheet. If those businesses all failed, those loans would have become even larger concerns for Bernander. Fortunately, he and the bank knew and trusted Diehl. They knew his entire business was at stake, as well.
"He doesn't just talk about what he's going to do. He does it," Bernander said. "His leadership is by action and not by words."
The bank followed Diehl's plan, creating a window for him and the area to focus only on rebuilding the lake and County Highway A. The lake had not only breached its 80-year-old dam, but the deluge overran the adjacent road creating a 400-foot-wide gap.
"It's amazing that we were able to get back on and get those businesses all going again," Bernander said. "The direction [Diehl] led not only our bank, but the community and our convention and visitor's bureau. His leadership role in that was huge."
Diehl also credits the state, and specifically former Wisconsin Gov. Jim Doyle. From the outset, Doyle made sure the Dells' businesses, the state Department of Transportation, the federal representatives from the Department of Transportation, and the Department of Natural Resources were all coordinated.
The mild winter that followed allowed workers to build a soil bentonite slurry trench dam where the road had once been. By 2009, the Wisconsin Dells was largely back to business as usual.
"I remember talking to resort owners; their whole life was their business," Diehl said. "Every penny they had was tied up in their business. I remember going to them one after the other after the other, saying 'Don't worry. We'll get the embankment rebuilt, and the Bank of the Dells will work with you.'"
It's a classic example of how a community bank should work. "Especially in a time like that," Diehl said.