Merrillville, Ind.-based Centier Bank donated $5,000 to local nonprofit TradeWinds Services, Inc., a local nonprofit that provides services to people with disabilities.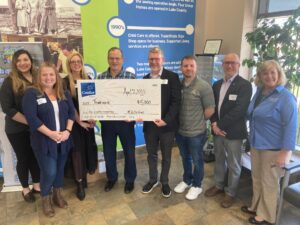 The donation was in recognition of April being National Diversity Month. TradeWinds offers children's programs along with services for adults and seniors with developmental disabilities.  
"We are excited about our partnership with Centier Bank because we enjoy that they are a hometown, family-oriented business," said Lisa Tatina, director of development and marketing and director of employment services at TradeWinds. "Like TradeWinds, Centier Bank's focus is on our local community, caring about customers, and believes in inclusion and diversity in the workplace."  
Centier Bank's volunteer engagement specialist, Ashley Stephan, noted the bank recently grew its partnership with TradeWinds by adding longtime board member Troy Rose to Centier as a vice president and its increased focus on diversity, equity and inclusion through creating internal Associate Resource Groups. 
"Advocating for individuals with disabilities is something I've always been passionate about," Rose added. "It's encouraging that Centier recognizes the importance of creating equal opportunities for associates and clients of all abilities and continues to support organizations such as TradeWinds that share that same mission."