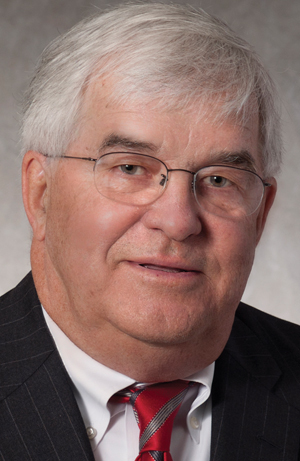 Remembering Mark Olson, March 17, 1943 – Sept. 12, 2018
One of the first big stories this journal did after I came on board in the mid-1980s was a profile of Mark Olson, at that time a 43-year-old banker from Fergus Falls, Minn., who became president of the American Bankers Association. In 1986-87, he was the youngest person ever to hold that position. David Walsh, our editor at the time, wrote the story, detailing how a community banker from a central Minnesota town of 12,500 people came to lead the ABA. The article helped the magazine (called Commercial West back then) and Olson to establish a great relationship which lasted until Sept. 12, when Olson died at the age of 75.
Olson's father, Walter, chartered the Security State Bank in 1956. After getting an economics degree at St. Olaf College, where Olson headed the local College Republicans, Olson got a job at First National Bank in St. Paul (now U.S. Bank). After five years, he connected with U.S. Rep. Bill Frenzel (R-Minn.), serving as a legislative assistant for banking issues. He eventually became Frenzel's Minnesota District Office Director. At the age of 33, he returned to his hometown to go to work for his father at the bank, and shortly thereafter became its president. Under his leadership the bank grew to $35 million in assets from $10 million.
He became active with the Minnesota Bankers Association and Executive Vice President Truman Jeffers saw Olson's political experience and encouraged him to become active in the ABA. He quickly found a seat on the ABA's Government Relations Council. ABA liked what Olson had to offer and despite his young age, Olson entered the leadership path that culminated in the association's presidency.
He took the president's gavel at the ABA convention in 1986, which was in San Francisco. The banking industry was deeply divided at that time. One of the big issues was whether the banking industry should be opened up to offer addition financial products, such as securities and insurance. Olson favored the expansion of powers for banks. With his political acumen and people skills, this small-town banker was seen as someone who could bring together bankers of all stripes.
A year later, when the ABA convention was in Dallas, the stock market took a dive only hours before then-Federal Reserve Bank Chairman Alan Greenspan was scheduled to take the stage. Olson had prepared to introduce Greenspan, who was only months into the job. Greenspan was so concerned about the markets when he landed that he turned right around and returned to Washington, D.C. Olson never got to make his introduction. Years later, however, Olson would get all the opportunity he could want to interact with The Maestro.
Having sold the Fergus Falls bank to the Lindholm family in 1988, Olson joined Arthur Young & Company, which later became Ernst & Young. In 2000-2001, he re-entered political work, taking a job as Staff Director of the Securities Subcommittee of the Senate Banking Committee. This was right after the Gramm-Leach-Bliley Act was passed, which gave banks the powers to offer many of the new products for which Olson earlier had advocated.
President Bush appointed Olson to a seat on the Federal Reserve Board of Governors. I wrote a story about Olson soon after he was sworn in on Dec. 7, 2001. People in Fergus Falls were so proud of their native son, they threw him a big party, attended by locals and bankers from throughout the state.
Although it was a 10-year term, Olson stayed in the job only until 2006, when he left to become chairman of a new regulatory body called the Public Company Accounting Oversight Board. Three years later, he teamed with Andrew Sandler to start a consulting firm called Treliant Risk Advisors. He served as chairman until earlier this year.
Olson was a frequent contributor to this magazine, his essays appearing on a number of occasions. It always impressed me that he made time to stay in contact with a regional trade magazine when clearly his industry scope was national. The American Banker wrote a nice article about Olson upon his death, with several people emphasizing what a solid person he was, always committed to doing what was right and ethical. It was my privilege to follow his career over the last 30-plus years and over that time I developed the highest level of respect for him. Seventy-five seems like a young age to die. He will be missed.