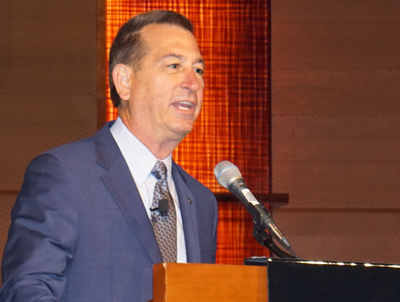 Joseph Otting, the top regulator for the country's national banks, still considers himself to be a banker. It's an admission that explains the consternation voiced by Congressional Democrats and community groups when he was nominated to become the 31st Comptroller of the Currency. To the banking industry, however, Otting's selection was idiomatic: Who better to understand the bottom-line impact of banking regulation than one who toiled under its weight?
Otting was sworn in as Comptroller on Nov. 27, 2017, and immediately set to work on his priorities: Reforming the Community Reinvestment Act; encouraging bankers to return to small dollar lending; reducing Bank Secrecy Act/Anti-Money Laundering compliance burden; and releasing the special purpose national bank charter for non-depository fintech companies. His priorities are informed by 30 years spent in banking, primarily on the West Coast.
His proposed reforms have captured attention, not all of it positive. The OCC's plan for a special purpose national bank charter for fintechs, for example, prompted the New York State Department of Financial Services to file a lawsuit, calling the plan "ill-conceived." The Conference of State Bank Supervisors, which represents regulators responsible for state banks, filed a lawsuit Oct. 25, saying the OCC is overstepping its authority.
On his goals to reform CRA, Otting said he's been told he "needs his head examined." Those words came from his friends.
Yet Otting, as affable and straight-talking as you might expect a native Iowan to be, has pushed on, resolute in his mission to bring meaningful change to bankers he believes are serving their communities "incredibly well." He is, at essence, focused on a mission to innovate national banking oversight in a regulatory environment that is, for now, conducive to change.
"The beauty of my background is that I really understand how a bank works from A to Z," Otting said in a Des Moines interview conducted prior to his Sept. 17 speech at the Iowa Bankers Association annual convention. In response to those who questioned his qualifications to oversee 1,220 banks and thrifts with nearly $12 trillion in assets, he said: "I thought I was uniquely qualified."
The value of CRA
When passed in 1977, the Community Reinvestment Act required banks to make loans in the same areas from which they gathered deposits. A bank that opened deposit accounts for people living in low- to moderate-income areas was expected to make loans to people living in those same areas. How the world conducts its banking has long since changed. CRA has been layered with such complexity that Otting says it's become unfair to banks, and to the civil rights groups/non-profits that rely on CRA for LMI dollars. "We run the risk of CRA limiting the investments we do," Otting said.
What he envisions is finding a way to determine a bank's commitment to CRA in its aggregate form. He wants objective measures rather than the current tiered-plus-points system that measures one bank's CRA activities against its nearby competitors. "What a lot of people complain about, and I used to too, is that we'd work over the course of a three-year period and closely track our activities but on the Friday before our exams were going to commence, I didn't know exactly how we were going to come out," he said.
Bankers make loans they intuit as qualifying, he continued. When that activity gets challenged during an exam, "it can be one of the most frustrating aspects of CRA," he said. "We want to come up with a list of things that do qualify for CRA credit, and I think there are a lot of things we should be putting on that list."
Ripe for inclusion on Otting's list is CRA credit given to supporting religiously-affiliated nonprofits that offer job training or financial counseling. Otting rejects the idea that such support violates the Establishment Clause of the First Amendment. Such organizations are often the locus of support for African-American and Latino communities; bank investment in these operations should qualify for CRA credit, he argued.
Otting also doesn't like the $1 million revenue cap on commercial projects, which he says restricts opportunities for small-business lending. Dollars flowing to job creators should be the point, he said. "Who cares if it's $2 million?"
Creating an objective list of qualifying activities should lead regulators to eliminate what Otting called a pain point: the lengthy wait for examination reports. "We should be able to perpetually validate that someone is in CRA compliance by the volume of investments in their community," he said. An objective measurement framework is what he aims to create.
Perhaps the most significant challenge to modernizing CRA in the mobile- and internet-banking age will be defining "community" and "assessment areas." Bankers know where their customers are and they should be given the flexibility to go into those communities and invest, Otting argued. He wants to create a formula that factors together where a bank is headquartered, all the locales where its branches operate, and how it uses technology to gather deposits.
The OCC began to collect ideas on modernizing CRA in late August when it released its Advanced Notice of Proposed Rulemaking, with a comment period that was scheduled to close November 19. The OCC got out ahead of the Federal Reserve and the FDIC with its release, though Otting said those agencies provided input. "We were ready to go February 10 and it got to be the end of August and we hadn't issued it. There are communities and individuals who can take advantage of CRA across America because banks want to help them," he explained. "By this sitting on the shelf for another six months, we weren't going to get that underway. I just wanted to start the feedback process."
Back to business
About one week before Otting spoke to Iowa bankers, U.S. Bank, one of Otting's former employers, introduced a small-dollar loan product called Simple Loan. The bank says its product offers lower rates than a typical payday loan and promises consumers their monthly payments won't exceed 5 percent of their monthly income. Pew Charitable Trusts estimated that a $400, three-month term Simple Loan would cost $48, compared to $350 if provided by a payday lender.
Simple Loan was unveiled about four months after the OCC first urged banks to re-enter the small-dollar lending market after a nearly four-year, regulatory-prompted hiatus.
"If there's one thing I've learned in life it's that supply and demand matters," Otting said. He views the millions of Americans who don't have credit alternatives at financial institutions, and the proliferation of pawn shops and check-cashers that have filled the small-dollar lending space that banks vacated, as opportunity calling. Otting said he isn't concerned whether banks can serve the market profitably. "That's up to you," he said. Small-dollar loans can be designed as just another product, priced and marketed using profitability analysis, or they can be crafted as gateway products to move people toward full-service banking relationships. "We think banks should fill this space; they'll do it the cheapest, the fairest, and with the best documentation," he said.
Pew research backs him up: banks make small-dollar loans six- to eight-times less expensively than payday lenders. Otting called the original guidance that pushed banks out of the small-dollar lending market a "fatal flaw" that he is driven to remedy.
Innovation requires change and change introduces risk. Otting recognizes this. And he's not in the role to change the industry's risk profile. "Nobody wants to go back to 2009," he said. Experience has taught him, however, there are better ways to do business. "I'm a big believer in efficiency and effectiveness," Otting said.
His management style is collaborative and he said he has an enormous appetite for information. The OCC now has an executive management team where all decisions are made by the team rather than by one individual. "We draw things into that group and debate them," he explained, adding that 93 percent of decisions used to come to the Comptroller's office. That number has been reduced to 42 percent with a goal to decentralize decision-making even more.
He has also empowered his examiners in the field to make decisions without having to consult Washington, to be an on-the-spot resource for a bank's executive management. The people who bankers interact with should feel like the decision-maker for the agency, Otting said. "If not, we've failed them."
He drafted his agenda not only by using the experiences of three decades in banking, first at Union Bank, then U.S. Bank, and finally at OneWest which merged in 2015 with CIT Bank, but also from surveys of bankers, surveys of employees, and a swelling agency budget, which he boasts will increase only 1.5 percent this year instead of the projected 9 percent when he took over. He also projects a budget decrease in 2019 of 2 percent.
In the absence of a learning curve on banking, Otting has progressed swiftly, injecting efficiencies, even promising changes to BSA/AML compliance by the end of this year or early in 2019. The OCC, FDIC, FINCEN and the Fed have been meeting monthly to craft a plan for relief. "There's technology that we can throw at this to take away the pain," he said.
Innovation as competition
The governmental approach to management might have required Otting to adapt more had he served as Comptroller during a different administration. But the environment in Washington is different, or at least different enough. He said the management approach in private enterprise — which gathers as much information as it can, looks at the alternatives, assesses risk, considers unintended consequences, and moves quickly toward decision making — isn't the Washington way. In government, "the propensity is to want 100 percent of all the information available before making a decision for fear you will be criticized," he reflected. "I think interjecting some business qualities into the way that government has operated has been very positive."
The only proposal pushback he's encountered is with the special purpose national bank charter for non-depository fintech companies. He's quick to point out that that proposal, crafted during Comptroller Thomas Curry's tenure, predates him. But he owns it now: "We don't want an unfair competitor in the marketplace," he said. It's his way of acknowledging the "fintech phobia" over special purpose charters being exempt from CRA. The bottom line, he said, is that fintechs offer choice.
With input from banking industry groups, the OCC crafted a special purpose charter that requires heightened capital and liquidity, and asks applicants to submit an inclusion plan. At least that was Curry's intent. Under Otting, the OCC changed the inclusion plan requirement to an "inclusion commitment," which has raised some eyebrows. Otting used the term "plan" when speaking in Iowa, and said the special purpose charter "lines up very similar to a de novo operation."
With innovation being the impetus behind the special purpose charter, it remains to be seen how the industry will change as a result of the OCC's action. To date, zero nondepository fintech companies have filed applications for the special purpose national bank charter, though an OCC spokesperson said some are expected by year's end.
Otting, who has homes in Santa Monica, Calif., and the Las Vegas Valley, where he co-owns a golf course, now spends about 80 percent of his time in Washington, D.C. Prior to being named Comptroller, Otting said he visited the nation's capital to represent his industry as a banker. His transition to regulator, therefore, hasn't been difficult, only different. "I used to think of Washington, D.C., the way many people view Las Vegas — by the second or third day, you can't wait to get out," he laughed. But he's not looking to escape anytime soon, and he said he's not one to plan his future in five-year stretches. Still, there's a legacy to consider.
One year into the role, something he is particularly proud of is reducing cost. "Just like we ask banks to look at their efficiency ratio and operate efficiently, we have been doing a lot of that," he said. Efficiencies impact the way the agency communicates, how decisions are made and how exams are processed. "We will actually lower our costs between this year and next, which I'm very proud of and hasn't been done for many years in government agencies. I would be very pleased if we can continue to offer optimal service but do it in a cost-effective manner," he said.
At the time of his interview, Otting declined to comment when asked if those cost savings would be passed along to banks in the form of lower exam fees. On Nov. 30, the OCC announced its 2019 fee structure, which indicated a general reduction in fees of about 10 percent.