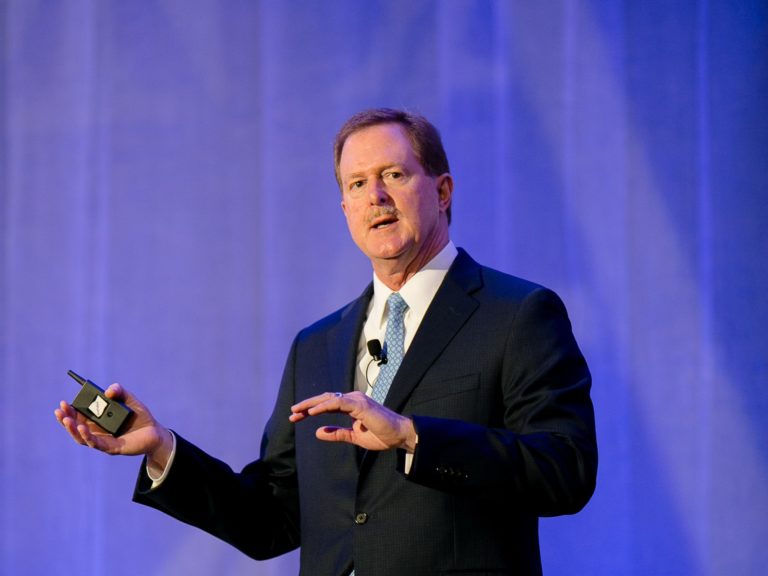 Calling these "paradoxical times" investment banker Curtis Carpenter of Sheshunoff & Co., noted the strength of the banking industry at a time when technology is rapidly changing the payments system and younger generations know little about traditional banking. While customer expectations have dramatically changed in the last three decades, the "business model of banking is the same today as it was 30 years ago," Carpenter said. "It doesn't appear to be sustainable."
Carpenter was speaking at the 2020 Acquire or Be Acquired conference presented by Bank Director magazine. More than 1,300 people traveled to Phoenix for the Jan. 26-28 event.
Carpenter wondered aloud whether industry earnings have peaked, and what it means when an industry loses 5 percent of its companies every year with very few new entrants over a long period of time. He said manager/ownership succession, technological change and disparate performance are the main drivers of merger and acquisition transactions, which he said have been numbering about 266 annually.
Industry conditions currently are strong, with median equity at 12 percent, a corporate tax rate of 21 percent and a favorable political and regulatory environment. He noted the median return on equity is 9 percent and he called the banks earning less than that among the top candidates for selling. Banks located in metro areas generally attract higher prices than banks located in rural areas.
Deposit levels, however, sometimes turn that equation upside down. A bank with a high loan to deposit ratio – one-third of banks in 2019 had a loan to deposit ratio of 90 percent or higher – are often willing to pay up for a rural bank with a healthy deposit base.
The price of publicly traded bank stocks can influence the price of community banks, even in all-cash deals. Carpenter noted that bank stock prices peaked 18 months ago. About 12 months ago, stocks deteriorated to a low point; since then, prices have increased about 30 percent. Some bank owners who sold to publicly held banks have seen the value of their interests increase substantially since their sale as the stock of their acquiring bank has risen.
Politics is likely to play an "outsized" role in strategic planning discussions this year. Carpenter said he expects more deals to occur early in the year as buyers and sellers sit tight through the November elections. 
Pricing in cash deals should be about the same in 2020 as it was in 2019, with stock deals following the lead of the overall stock market, Carpenter said. He also predicted it will become a bit more difficult to find deal partners. The belief by some that earnings have peaked creates uncertainty regarding bank valuation, although a belief that the tax environment now is more favorable than it is likely to be in a long time creates some incentive to act now.