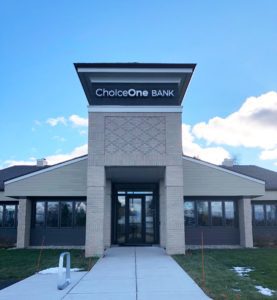 Sparta, Mich.-based ChoiceOne Bank is continuing its footprint expansion with an additional branch office in Rockford, Mich.
ChoiceOne purchased the 4,556-square-foot building in Rockford earlier this year and renovated the building to offer the community a second full-service branch office, including the addition of an interactive teller machine.
"Rockford is a growing market for us, so we are extremely pleased to open our second full-service branch office in this community," said ChoiceOne President and CEO Kelly Potes.
Skylet Cummings will serve as the assistant vice president and branch manager for the Rockford market. Cummings joined ChoiceOne Bank nearly two years ago with over 20 years of banking experience in branch management, small business banking and business development. He is involved with the Rockford Chamber of Commerce, Junior Achievement, Rockford Ninja Warrior Youth Camp, SECOM of Grand Rapids, and the Kid's Food Basket.
"We have been serving the families and businesses in west Michigan for 120 years now," said Potes. "Rockford is a significant part of our bank culture as many of our employees are from Rockford and continue to call the area home."
ChoiceOne recently announced the grand opening of a full-service branch office in downtown Grand Rapids. With the addition of two new branch offices, ChoiceOne Bank has added 10 full-time equivalent employees to their roster of nearly 200 employees in their 14-branch office network in western Michigan.