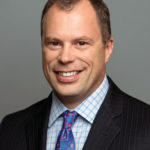 Hadley Robbins, president and CEO of Columbia Banking System in Tacoma, Wash., will retire on December 31 after nearly seven years of service with the company and nearly forty years in banking.  
Columbia's board of directors has appointed Clint Stein, Columbia's current chief operating officer, to succeed Robbins as CEO on January 1. Chris Merrywell, Columbia's chief consumer banking officer, will succeed Stein.
Robbins was named to serve as interim CEO two years ago following the unexpected death of former president and CEO Melanie Dressel. Previously, he had been EVP and COO of the $13 billion Columbia.
"Hadley Robbins' contributions to our company are a tribute to his commitment to serve all our stakeholders," said Columbia Chair Craig Eerkes. "Under his guidance, we closed our largest acquisition and have grown into one of the most successful banks in the Northwest, all while maintaining the commitment to our clients, employees, and communities that has long defined our brand."
Stein joined Columbia in 2005 and was named executive vice president and COO in 2017. He has a bachelor's degree in accounting and business administration from the University of Idaho, Moscow. He is a graduate of the Graduate School of Banking at the University of Wisconsin-Madison.
"Throughout his 14 years at Columbia, Clint has played a substantial role in expanding our franchise and has demonstrated great passion for growing both our company and our people," Eerkes said.
Merrywell joined Columbia Bank in 2012 and was appointed executive vice president and chief consumer banking officer in 2017. He has a bachelor's degree in business administration from Arizona State University, Phoenix, and is a graduate of Pacific Coast Banking School, Bellevue, Wash.