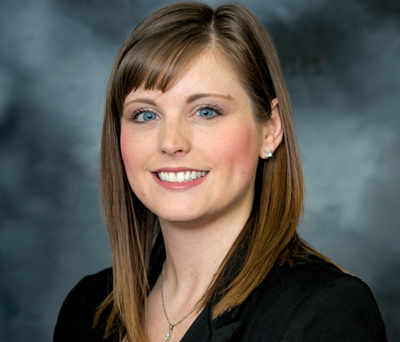 Editor's Note: Each summer, BankBeat recognizes banking industry up-and-comers, nominated by readers, who are making a significant impact to their institutions and communities. This annual tradition is sponsored by United Bankers' Bank, Bloomington, Minn.
Kayla Konger learned about business in second grade when she was the classroom "baker" at Sweet-O-Donuts, a Junior Achievement enterprise. While Konger made paper donuts, she discovered that in order to be successful, her classmates had to sell enough of them to pay her for her papercuts and hard work. She said the message still sticks with her: individual success is community success.
Konger is one of seven mid-career bankers being honored by BankBeat as a Rising Star in Banking.
Konger continually applies this message — now more than ever as she oversees four Garrett State Bank, Ind., branches as vice president and senior retail officer. This is a change from her previous positions in her 13 years spent at the bank. When she was a loan officer, she knew whether her loans were getting approved or denied. When she was a loan processor, she had control over her own paperwork. "Now, I'm overseeing people, and their success is the determining factor for my success," Konger said.
She started at Garrett State Bank as a teller in 2005, and by the time she accepted her most recent promotion two years ago, she had already devoted more than a third of her life to the bank.  The young banker said the transition into leadership was difficult – but was eased by the advice from mentors to communicate with, learn from, and respect the people she managed.
Harkening back to her elementary JA lessons, Konger understood that every role at the bank is vital to the success of the company. As a leader, she not only has to know what each employee needs to do, but also how they each work best.
"I've learned each one of them and what makes them tick," Konger said. In reward for a job done well, some employees that Konger oversees prefer public praise while others prefer private acknowledgment, some appreciate unexpected time off while others prefer a reciprocal act of service. "Even though they work for the same bank, they all have different needs."
Konger said there was a gestational stage between being "the young new boss," and enjoying authentic relationships with the people she manages. "That's when I learned how much I needed to communicate with them and to see whether they and their offices had the resources they needed to succeed." In her transition into leadership, Konger also realized the importance of self-awareness and communication with the people under her.
During one progress report with a branch manager, Konger commended the employee's knowledge of the company and her stellar communication skills. The employee had no concept of her strengths in these areas. From that point on, Konger realized, "I need to make sure the branch managers not only understand their faults, but they are well aware of their successes."
Even Konger grappled with receiving recognition for her success. "I come here, I do my job every day — I didn't think it was anything extraordinary," she said, "but my boss seemed to think so."
And he did. "She just stays focused on her job and gets it done," said Mark Vogt, president and CEO of Garrett State Bank. Konger is a strong example of someone who started as a high school intern and successfully rose up the ranks, "and really performs well at each stage," he said.
"She's someone who's very adaptable, learns quickly and gets along well with others," Vogt said. "She's been a really strong asset for our bank, and at a really young age."
Scaling from a teller to a lender to a loan processor and now to a vice president and senior retail officer, Konger has been an essential player in many areas of the bank and has grown dramatically in the process. "You never really lose sight of what your path has been from the bottom up," she said.
The lessons she learned when she was a teller are still ones she applies today. "Communication, being detail oriented — those are things I struggled with from the beginning that have been groomed over the past 13 years," Konger said.
Konger has acquired technical skills along the way, and continually gleans soft skills from the people around her. She has  mentors in both the lending and loan processing sectors, and she said she even learns from her army-recruiter boyfriend, joking that sometimes she feels like a drill sergeant with her branch managers.
Konger's involvement in her job and the community has grown to be second nature. She attends quarterly training seminars, yearly Indiana Bankers Association conferences and a Monday night golf league.
Now, every spring, she teaches her own class of second graders how to make paper donuts for JA at Huntertown Elementary School. She said Sweet-O-Donuts did — and does — a good job of reminding her and the kids that everyone in a business is an important component to its broader success. "That's something that everyone [at Garrett State Bank] really understands well.