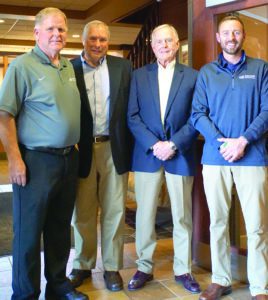 Community Development Bank, FSB, of Ogema, Minn., has completed its purchase of the First American Bank, N.A., branch in St. Michael, Minn. The deal closed on Oct. 20. First American, based in Hudson, Wis., acquired Great Northern Bank in St. Michael in 2014 and converted it into a branch. Great Northern was a 1999 de novo. First American Bank was formed in 2007.
Dale Sandahl, president of Community Development Bank, said the bank's strategic plan calls for growth by acquisition. The purchase of the office in St. Michael, he said, is an excellent way for the bank to diversify its lending portfolio. The St. Michael office contributes commercial and industrial loans and consumer residential loans to a loan portfolio that was made up mostly of ag loans. Community Development Bank has another branch in the largely agricultural community of Hancock, Minn.
Prior to the acquisition, Community Development Bank had about $76.5 million in assets. The purchase and assumption deal will add about $77 million in assets to Community Development Bank.
Nick Shultz, who has been at the St. Michael financial institution since 2010, and became the branch manager in 2014, will remain at the office, working under the title of Market President. Sandahl described Shultz as extremely active in the St. Michael area, including working with the St. Michael Chamber of Commerce and being active in area youth soccer.