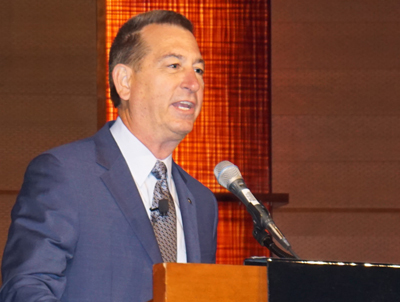 By the end of 2018, bankers should begin to see their BSA compliance burden begin to lift, promised Joseph Otting, Comptroller of the Currency, speaking Sept.17 to several hundred bankers gathered in Des Moines for the Iowa Bankers Association's 132nd annual convention. Changing how regulators approach BSA compliance during exams was one of Otting's top initiatives during his first year as head of the OCC, along with encouraging bankers to return to small-dollar lending, modernizing the Community Reinvestment Act, and simplifying the capital ratios for banks needing to comply with the Volcker Rule.
On the latter, Otting suggested recently passed reg reform,"will allow us to set that ratio between 8 and 10. Most bankers would vote for 10 and most regulators will vote between eight and nine," Otting said. "Ultimately we put things somewhere in the middle." Otting said he expects the OCC to announce a proposal on capital ratios by the end of the year.
Otting, the first former banker to head the agency in 40 years, said he still considers himself a banker and understands the "pain points" bankers face in managing their businesses. This makes him "uniquely qualified for the job," he said. Otting became the nation's 31st Comptroller on Nov. 27, 2017.
It was the elaborate underwriting standards imposed on bankers making small-dollar loans that spurred the industry to abandon that market, Otting said. The result: pawn shops, payday lenders and check cashers filled the funding gap. "We think banks should fill that space," Otting said. Banks can provide small-dollar loans, which he defined as between $300 and $5,000, "the cheapest, the fairest, and they'll do it with the best documentation." Otting referred to an OCC bulletin released May 23 as providing bankers with lending principles relevant to that market.
Otting didn't go into great detail on the OCC's vision for modernizing CRA but he encouraged bankers to submit comments to its recently released ANPR. "Your community partners will be voicing their opinions about that and it's important we have full participation of what we want CRA to look like in the future," he said.
On the OCC's new special purpose charter for FinTech companies, Otting said he doesn't expect more than 10 or 20 companies to actually want the special charter in order to become banks. Most technology companies "are going to come to you and want to partner by bringing technology to your business," he said.
Peg Scott, CEO/CFO of Union State Bank in Greenfield, Iowa, was elected 2018-19 chair of the Iowa Bankers Association on Sept 18, only the third woman in the history of IBA to assume that leadership role. In her remarks, Scott pledged her focus on continuing advocacy and on developing future talent. "We will build upon opportunities to support diversity in our workforce, including offering additional educational and networking to emerging leaders and women leaders," she said.
In June, IBA launched its first-ever Women in Banking Forum, which drew approximately 300 bankers, a number that exceeded expectations. Another first for the association was its Bankers' Day on the Hill, which drew nearly 250. Additionally, nearly 10,000 bankers sent letters to legislators through the IBA Legislative Action Center. "We have moved the needle on public awareness," said outgoing IBA chair Kurt Herbrechtsmeyer, referring to the IBA's CU Free Ride campaign.
"In 2015, only 32 percent of the population knew credit unions do not pay taxes," Herbrechtsmeyer said. "A new survey shows that today, 55 percent of Iowans are aware of this and understand that something needs to be done about this.
"Our work in the state of Iowa has drawn national interest and we've created a blueprint that I think you are going to see replicated in other states when the opportunities arise."
The IBA executive committee is rounded out by Chair-elect Brad Lane, Security Savings Bank, Gowrie; Treasurer Matt Lujano, Westside State Bank, Westside, and Past Chair Kurt Herbrechtsmeyer, First Security Bank & Trust, Charles City.
The IBA also bestowed its prestigious Leach Award on Leslie Miller, Iowa State Savings Bank, Knoxville, only the second woman so honored.