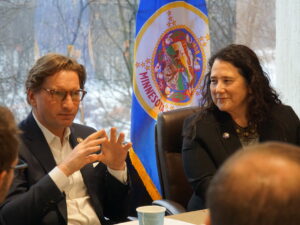 The recent collapses of Silicon Valley Bank and Signature Bank were caused by internal leadership failures, not a 2018 law that eased regulations on similarly-sized financial institutions, said U.S. Rep. Dean Phillips (DFL-Minn.).
Phillips discussed the recent bank failures following a March 16 roundtable with local small business leaders and Isabella Casillas Guzman, administrator of the Small Business Administration, at Christensen Insurance Group in Eden Prairie, Minn. 
Phillips' views on why the banks collapsed came as other prominent Democrats attributed the collapses to a 2018 law that lifted the size of banks to face tightened capital liquidity requirements to $250 billion from $50 billion. Democrat Sens. Elizabeth Warren of Massachusetts and Katie Porter of California introduced a bill this week repealing the loosened requirements.
The $210 billion, California-based Silicon Valley Bank failed on March 10 following a bank run. The failure was the second-largest in U.S. history, trailing only Washington Mutual Bank during the Great Recession. Silicon Valley Bank, which was a large player in the tech sector, was hit hard by the drop in tech stocks over the last year. The $110 billion, New York City-based Signature Bank, a major lender to the crypto industry, collapsed two days later when the New York Department of Financial Services seized its assets. 
"These are unique circumstances, and we also have to recognize that we have perverse incentives," Phillips said. "It is the responsibility of CEOs to grow their businesses, generate returns for shareholders, and that often means taking risks to do so. In the case of banking, the job of banks is to mitigate risk. So we have to look at this in a thoughtful, reasonable way, not do any knee-jerk reactions."   
Though Phillips said the banking system remains strong, he is more concerned that investor anxiety over a possible downturn could lead to a self-fulfilling prophecy. Federal regulators have announced that all depositors at both Signature and Silicon Valley Bank — even those exceeding the $250,000 insurance limit — would be able to access their funds by March 13.  
Though Phillips said the Federal Reserve's rapid pace of interest rate hikes played a role in the failures, he doesn't expect more institutions to fail. "We have a remarkably sound banking system and we also have a government that steps in when necessary, as we did expeditiously and I think very successfully in the last week," he said to assure consumers. 
Guzman said the SBA continues to have confidence in the banking system and financial regulators. She added that the SBA continues to see strong demand for its government-guaranteed loan program. 
"These are institutions that we depend on at the SBA to ensure that we can get capital out to as many businesses as possible," she said. "We obviously have incredible confidence in the banking system and the actions that are being taken by Treasury and the regulators to ensure that we continue to strengthen the system."