How did a career community banker end up with a vital operations responsibility at every Green Bay Packers home game? The same way he became co-founder, president and CEO of Wisconsin's youngest bank. It wasn't what Dave Schuelke knew. It was who he knew.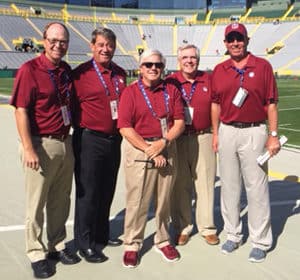 Nearly three decades ago, banking colleague Jerry Mortell asked Schuelke to help him and his father, who ran the game clock, with operational duties at Packers home games. As a sports fan, Schuelke jumped at the chance to spend a game on the sidelines. Soon thereafter, the NFL implemented a system allowing one-way communication from a coach to a quarterback. The system was designed for radio reception to get turned off manually with 15 seconds remaining on the play clock or when the ball was snapped.
The league needed a reliable person who would pass a background check to handle that switch. Mortell suggested Schuelke, and he has handled that duty at Packers home games since the technology was introduced in 1994. When the NFL added the setup to the defensive side of the ball in 2008, those duties folded right into Schuelke's.
"If you're not a fan of the sport, you wouldn't really have much interest in it," he said. "I do it because of a couple of reasons. Most of all, I'm still a fan."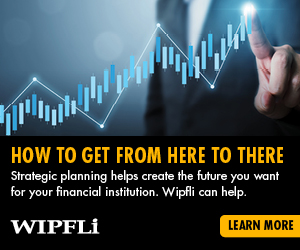 An even more unexpected connection led Schuelke to Spring Bank, Brookfield, Wis. Prior to opening in August 2008, the group organizing the de novo knew it needed someone new to run the operation. The founding group's attorney was a former bank examiner who knew Schuelke. Remembering Schuelke was originally from Brookfield, he recommended him for the role.
"Starting a bank was never necessarily on my bucket list, but I was looking to make a change," said Schuelke, who was a regional president for JPMorgan Chase at the time. "It's like the golden ring. I had to grab for it. I'm not going through the rest of my life saying 'what if?'"
The group moved ahead with its plans even as signs pointed to an economic slowdown. Spring Bank opened Aug. 28, 2008, barely two weeks before Lehman Brothers' bankruptcy filing signaled the beginning of what would become the Great Recession. Up until that point, Schuelke thought a cooled economy would be ideal for a new bank.
"If you're riding the last year of an expansion, you're competing," he said. "Everybody is making loans, so it's hard to get new business. Spreads are lower and terms are looser. Then the economy turns, and all you've got are loans that are a year old.
"I feel and felt at the time that if things were slowing down, there would be less competition in the marketplace. If credit was tightening, that was when you wanted to open."
Although there was some concern about the safety of Spring Bank's capital being held in fed funds at the time, Schuelke's theory was validated. Competitors curtailed lending, sending qualified borrowers to other institutions. Spring Bank, which had capital to spare and relatively convenient access to more, was happy to offer those customers financing. As depositors looked to insure as much of their money as possible, they spread their accounts around $100,000 at a time, reaching the FDIC insurance limit at each bank. For most banks, that worked against them. For Spring Bank, it meant new deposits.
"Nobody was leaving Spring Bank because nobody was at Spring Bank yet," Schuelke pointed out. "In hindsight, we opened at an extremely opportune moment."
Now a $265 million bank, Spring Bank remains well capitalized with a 12.91 percent capital ratio. It remains the most recent de novo in Wisconsin, a fact Schuelke will take as a point of pride for as long as it remains the case.