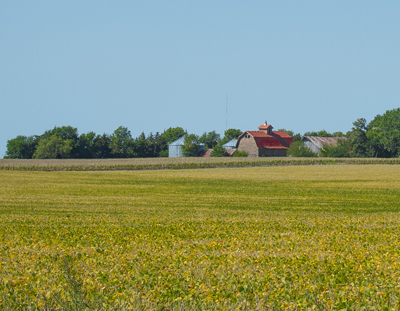 Editor's Note: Chad Hart is an agriculture economist and assistant professor at Iowa State University, Ames. BankBeat columnist Justin Dullum talked to Hart about the mounting effects of trade negotiations on the ag industry and what might be in store for 2019.
Q: First, an overview. What is your take on the impact of various trade battles?
Chad Hart: We've seen a fairly good sized hit in some of the markets that have been impacted by tariffs. The largest being soybeans with the dramatic drop in sales there to China. We've seen the pork industry take a hit as well. So ag has been on the losing end of the tariff battle. We are getting some of those markets back and we've seen some gains in other areas. But right now the losses are still larger than the gains we've realized.
Q: Where are some emerging markets for ag?
C.H.: When we're looking on the meat side, one of the biggest partners has been South Korea. We've seen them step up and buy a tremendous amount of pork and beef. On the grain side it's been a mixed bag. The European Union has come in fairly strong over the last six months. We've been making more sales in South America. And we've seen North Africa sort of light up. Places like Egypt have become much stronger buyers.
Q: Do you think there is an outcome to the tariffs that make it worth the setbacks?
C.H.: It depends upon how we get out of this. President Trump recently tweeted that he's seen progress in the talks between the United States and China. So it really depends on what that agreement looks like. How does it stand up to provide potential long-term gains? From an agricultural perspective, at least in the short term, it's been a loss. We need to see long-term benefits, and we just don't know what that's going to look like right now.
Q: If you were designing the goals for a trade deal, what would you like to see in place?
C.H.: Agriculture is sort of the collateral damage in this battle. A lot of this has to deal with intellectual property rights. What the Trump administration wants is for the Chinese to adopt more of a U.S. model when it comes to intellectual property. I do think we'll see China move closer to how we approach that, but not necessarily because of what we're telling them to do but because of what the Chinese technology industries themselves are asking for. They want the same sorts of protections now that their tech has grown and become more competitive. They are rapidly developing more of their own technology, so there is an incentive now. For lack of a better term, I think resolution of that issue will naturally develop. The question is, will this trade dispute bring that on more quickly or not?
Q: The new NAFTA, now called the United States-Mexico-Canada Agreement reportedly doesn't change a whole lot. How do you think the ag industry might be impacted?
C.H.: Yes, the USMCA is, for the most part, the old NAFTA. The vast majority of the agreement holds in place what we've already been working with. Most of agriculture will not notice any difference. About the only thing within ag that should notice some change, and those will be relatively small, will be the dairy industry. We'll see greater access into Canada. But that said, Canada, while a big market in itself, is not that big of a market when it comes to dairy. So the gains there will be small. The key to me, from an ag perspective, is that NAFTA was a very good agreement. So the USMCA basically continues a good agreement. It re-solidifies a good base of trade.
Q: Anything else coming up you think might be interesting to farmers and their community bank financial partners?
C.H.: Two things we'll be watching as we move through 2019. One, President Trump has said he wants to strike more bi-lateral trade agreements. He is talking to China, Japan and the European Union. Those could be major agreements if they are reached in 2019. On the flip side of that, the countries that used to be with the United States in the Trans-Pacific Partnership are going forward without us. This will be a big agreement with the United States on the outside looking in. That will be very interesting. It's going to open up some markets for our South American competitors and put us at a disadvantage in some of our more favored markets.
Growers call for end to trade disputes
Soybean growers have taken to social media with the hashtag #185DaysStillNeedTrade and #RescindtheTariffs to demand the Trump administration bring an end to its lingering trade war with China.
New trade talks between the United States and China occurred Jan. 7, in hopes of reaching a deal before March 1, when President Trump indicated he might impose more tariffs. It has been six months since China retaliated against the Administration's 25 percent tariff on $34 billion worth of Chinese goods. That tariff has shattered established trade relationships with China, the largest market for American soybeans. And, it has resulted in halted sales, plummeting crop prices, and a lack of security for farmers seeking funding for the 2019 season.
The partial government shutdown has exacerbated funding troubles for America's farmers.
"We are anxious to see real progress to end this trade war quickly," said Davie Stephens, a soybean grower from Clinton, Ky., who serves as president of the American Soybean Association. "This has been a long and costly half year for farmers, and we need stability returned to this market. We cannot withstand another six months."
The value of U.S. soybean exports to China had grown to $14 billion in 2017 from $414 million in 1996. China imported 31 percent of U.S. soybean production in 2017, or 60 percent of total U.S exports, according to the American Soybean Association. The ASA estimates soybean growers have realized a nearly 20 percent drop in prices since the threat of tariffs began.
China had been stockpiling U.S. soybeans prior to the 2018/19 marketing season. Additionally, it's been reported that China has pursued sources from other soybean exporting countries, particularly Brazil.