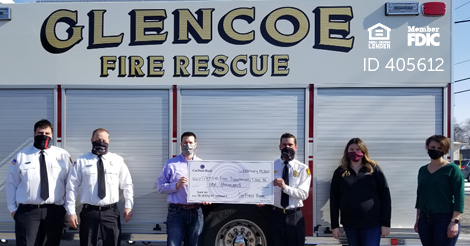 The Glencoe, Minn., fire department is getting a little brighter thanks to a donation from CorTrust Bank, Sioux Falls, S.D.
Employees at CorTrust's Glencoe branch made a $1,000 donation to the Glencoe Fire Department. These funds will be used to purchase illuminated signs for its trucks when they are out, ensuring people can see them easier.
Started in 1895, the Glencoe Fire Department remains a volunteer organization with three engine companies made up of forty firefighters responding to over 117 calls a year.
CorTrust acquired the Glencoe office as part of its merger with First Minnesota Bank, Minnetonka, in 2019.
The $1.4 billion CorTrust has 37 branches in South Dakota and Minnesota.