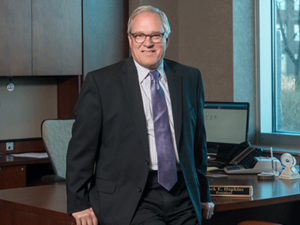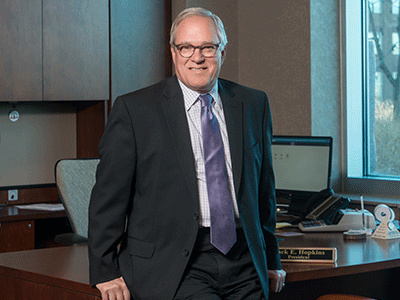 As dawn broke across a gray sky last May, Jack Hopkins, president and CEO of CorTrust Bank, boarded a short flight from Sioux Falls to the Twin Cities, where he considered the journey ahead. He would connect with Lowell Wakefield, longtime owner of First Minnesota Bank, Minnetonka, and the pair would travel by car to each banking office in the First Minnesota network where Hopkins would meet staff and talk about CorTrust's acquisition of their employer, news of which was just breaking on that cool and cloudy Tuesday. 
There would be nearly 200 miles for the men to traverse — Minnetonka to Mound, Glencoe to Hutchinson, Anoka to Edina — 11 stops in all to complete in two days; they would cross three Congressional districts and roll past farmland awash in the hues of spring. At each stop Hopkins would unfurl his vision for the future, a narrative that would deploy terms like "excitement" and "friendship" and "family first;" he would answer questions, calm fears and commit to his memory many new names. And by the weekend, when he was back home in Sioux Falls, the 57-year-old, third-generation community banker would have accomplished in quick order what was necessary to give the fourth generation a future in community banking: He will have gained a substantial foothold in a growing market and led the family bank across the billion dollar asset threshold while adding granularity and geographic diversity to its loan portfolio. And he will have done it in a market that is as familiar to him as his home.  
For his ongoing commitment to growing his bank in an era of increasing consolidation, along with his career-long commitment to industry activism, Hopkins has been selected BankBeat magazine's 2020 Banker of the Year. The annual "Banker of the Year" recognition program is sponsored by Bell Bank.
Latest decade of diversification
CorTrust dipped a toe into the metro Twin Cities market in 2009 when it won its bid on the failed Brickwell Community Bank of Woodbury. (Central Bank of Stillwater was the only other bidder.) "We had looked at the Twin Cities for a long time," Hopkins said, explaining that his father, Boyd Hopkins Jr., and grandfather, Boyd Hopkins Sr., understood as long as 40 years ago that the industry was going to consolidate and their historically agricultural bank would have to grow and diversify in order to survive. "We suffered through the '80s as most banks in this area did," Hopkins said, of the Mitchell, S.D.-based bank. (Its charter and operations center is in Mitchell but its corporate headquarters is located in Sioux Falls.) 
A trained accountant, Hopkins worked at a Twin Cities bank for four years after college before returning to rural South Dakota and the family bank. He knew many of the Twin Cities players and kept watch on their activities even when he moved to Sioux Falls to build the bank's first urbanized market during the mid- to late-1990s and early 2000s. "I thought banks were doing some stupid things up there at the time," Hopkins said of the pre-crisis years, citing aggressive loan pricing and the spate of de novos as examples. 
Brickwell was one of the earliest banks to fail in the crisis and Hopkins thought the Woodbury market was attractive. His team looked at the bank and decided to place a bid, "not necessarily thinking we would get it," Hopkins added. Just the experience of preparing a bid would bring value. He was certain more failures — and thus more opportunities — would follow.
Brickwell was closed by the FDIC on Sept. 11, 2009 and opened the following Monday as CorTrust's first Minnesota branch. "We had the credit losses pretty well nailed," Hopkins said. "What caught us were the legal expenses that went along with them."
Hopkins called the transaction "okay." It was a low-cost, if not exactly profitable, entry to the Twin Cities market. And it gave Hopkins and team tangible experience in order to continue to browse what he dubbed "the scratch-and-dent" lot.
With ag booming at this time, CorTrust was looking for a way to deploy its capital. Hopkins said the bank used bank stock loans and trust preferred securities, but generally had the available capital to be an active acquirer. And, growing a metro presence beyond Sioux Falls was part of the bank's strategic plan. 
It could have easily been Fargo or Omaha or Des Moines, said Jay Gikas, Minnesota market president. But it wasn't. "The growth opportunities here are significantly higher," said Gikas, a native of the North Star state who joined CorTrust just a few months after the Brickwell deal closed. 
CorTrust continued to bid on failed banks — banks that built portfolios on overstated appraisals, banks that had extended credit too aggressively, ones that sank too deep into commercial real estate or participated in deals with the wrong partners — but competition for these operations increased by the month and CorTrust's bids landed in the No. 2 position time after time. 
Hopkins "not only has a deep understanding of the business of banking and his customers," said Kim Perry-Donohue, vice president of human resources, he understands "the dynamics of the regulatory, political and economic environment." He understood, therefore, that FDIC auction was one path to growth, but there were others.
Well connected through his leadership at the Independent Community Bankers of America and its state affiliates, Hopkins made it known he was a buyer. In 2013, CorTrust acquired the troubled $36 million Blaine State Bank in Blaine, Minn.; in 2014, it bought a vacant bank building in nearby Brooklyn Park and opened a de novo branch; in 2018, it inked a deal to acquire the $90 million State Bank of Delano, located 30 miles west of Minneapolis. 
If slow and steady wins the race, CorTrust was well on its way with four Minnesota locations added in nine years. And then Hopkins and Wakefield started talking.
Family first 
In any negotiation, Hopkins' first call is to his father, the board chair. 
Boyd Hopkins Jr., had been an active acquirer himself during the 1980s, not necessarily seeking growth, he said in a 2013 interview with this publication, but capitalizing on opportunities that emerged. It was Boyd Jr., who brought the bank into Sioux Falls. It was Boyd Jr., who took the bank from two locations to 19 by 2004, the year Jack became president and CEO. And it has been Boyd Jr., who continues to offer advice when it is sought, who advocates for his son's decisions to the board, and who allows his son to lead in his own quiet, analytical way. 
"I was in Jack's office and we were talking about a new possible location in Sioux Falls," recalled Roger Weber, Sioux Falls market president who joined CorTrust in 2004 to fill the slot that opened when Hopkins was promoted to the top. "We were kicking around cost/benefit analysis given the location and Boyd walked in and asked what we were talking about. We gave him the lay of the land and he looked it all over, gave us some input, and then he got up and said, 'Well, when you guys make a decision, let me know what it is.' Then he turned around and walked out. For somebody who's grown the bank … I can't imagine that was an easy thing to do. But it's the right thing if you truly want to turn over the reins."
Those reins came initially from Boyd Hopkins Sr., who could trace his history at the bank to the years after World War II. In 1961, Hopkins Sr., bought controlling interest in the Livestock State Bank in Artesian, S.D., the precursor to CorTrust. Boyd Hopkins Jr., joined the bank in 1972, and Jack pitched in even as a youngster, eventually learning every job there was to learn. It becomes part of the DNA at this point. "It was a little strange working with family because there's always some added pressures that go along with maintaining the personal and business sides of the relationships," Hopkins said in 2000, the year he was named a "Rising Star in Banking" by this magazine. 
There's no question in McKinzie Hopkins' mind who leads CorTrust Bank. "My grandfather will always make his opinion known, but he gives the final decision to Jack." The vice president of credit administration for the Minnesota market is the first member of the Hopkins' fourth generation to work at CorTrust Bank. 
Like her father before her, Hopkins was encouraged to consider a career at CorTrust only after establishing herself elsewhere (something the family calls the Four Year Rule). "[Jack] wants his children to be involved, but only if they choose to do so," Hopkins said.
She was six years into a career as a tax attorney at Deloitte when her father asked her, during a Minnesota Twins game, to consider working at the bank. Their conversation occurred as the acquisition of the State Bank of Delano was finalizing. 
"He noticed I didn't have much of a life," Hopkins said about her years at Deloitte. "I loved what I did but he wanted me to think about balance."
Management ethos is articulated as "family first." It manifests in an employee stock ownership plan and a commitment to employees designed to alleviate worry about their jobs when they need time to tend to children or parents. If someone needs to be at a kid's game, they should go. 
"My dad coached every one of our teams," McKinzie Hopkins explained. "He never missed a single one of my brother's college football games. Not one."
Hopkins recounted the conversation with her father that tipped the scales for her and led her to join the family bank in October 2018. She was worried about not being ready, or not being good enough. He told her if she didn't like it she didn't have to stay. "He was being my dad." 
The hardest part of her transition was training herself to call him "Jack." It's a necessary step to align the relationship with professional standards. Lynn Peterson, market president for the bank's southern South Dakota branches said he appreciated the way the family committed itself to professionalism, having experienced the opposite at a different community bank. 
 "What I appreciate most is that Jack is a relatively hands off leader," said Gikas, whose job as Minnesota market president just grew by a factor of four. "He is more than willing to let me make those decisions, but of course his input is at the forefront."
The "family first" ethos was demonstrated to Gikas vividly after he suffered a heart attack, which led to a quintuple heart bypass surgery and 14 days in the hospital. Three days after Gikas was released, he called Hopkins and asked for a laptop so he could get back to business. "Jack said, 'I'll absolutely get you a laptop, as soon as you send me a doctor's note,'" Gikas recounted. "He knew I would work myself to death. He didn't want me to." 
The cost of growth
If the family comes first, where are profits stacked? 
"Taking on 11 new branches in one year, you see that hit our bottom line really hard," said McKinzie Hopkins. She lists some of the big-ticket items (technology, updates to buildings, new equipment, furnishings) and acknowledged that "family first" costs money. At the close of the third quarter, CorTrust Bank had 321 employees, $1.21 billion in assets, with ROA at 0.63 percent, ROE of 5.58 percent, net income of $4.578 million, and an efficiency ratio at 71.97 percent. "But it also sets us apart," she said.
Hopkins has been committed to doing in-house mortgage and credit card servicing. "We're trying to build our servicing portfolio, which is expensive to do on your own," he said, especially after the CFPB enacted new regulations.
Hopkins testified before the Senate Banking Committee on behalf of the ICBA last August, explaining that mortgage servicing works well in the community banking sector and asking lawmakers and regulatory agencies to not get overly prescriptive in setting standards: "The most significant risk in applying standards that are too rigid and prescriptive to all banks, regardless of size, is that the additional expense would surely cause many community banks to exit the mortgage-servicing business and accelerate consolidation," Hopkins testified. "Rural and small town customers would be left with fewer mortgage choices … I urge you not to tamper with our success." 
Hopkins was not optimistic about his opinion being taken seriously: "If I weren't in the servicing business today, I wouldn't get into the business today. It used to be if you had about $200 million or $250 million in servicing, it was kind of a break-even operation. Now I would argue it's probably pushing $600 million to $700 million in order to make it worth your time. That's a big number to get to."
Hopkins isn't interested in getting out of mortgage servicing because he said he doesn't like relying on third parties. "If we can control our partners, we can control our destiny," he said.
One might chalk up the attitude to independence, but Weber said it points to loyalty. "[Jack] is extremely loyal and passionate about his industry. He's loyal to his family … to his bank customers, and that gets back to the relationship," Weber said. "He wants to hang on to servicing because he made a commitment. When you come in and do a home mortgage with us, we're going to take care of it. And not just at the front end of the transaction but during the whole transaction.
"He doesn't want to get out of mortgage servicing because he doesn't want to give up on the relationship."
Attending to his roots
One of CorTrust Bank's smallest markets is Tabor, S.D., population 423. In Tabor and some of the other communities in the bank's southern South Dakota region, customers hear about all the moves their bank is making in "the Cities" and wonder aloud if they're soon to be left behind by their "large corporate bank," as Peterson recounted. 
A bank seeking a path forward follows the growth, and the reality is that growth markets by and large are metropolitan ones, not towns such as Tabor or Taylor or Gayville or Leola, all CorTrust communities of fewer than 500 people. These fearful customers are the ones who remember their bank as Livestock State Bank, Peterson said, and have been proud to bank with a South Dakota institution.
These days, ag comprises one-fourth of the bank's loan portfolio. Residential real estate accounts for slightly more than 20 percent of total loans, Hopkins said, with commercial real estate coming in at 40 percent, and credit cards and miscellaneous loans completing the pie. Population density is where the road to portfolio diversity leads.
Yet on the same day CorTrust closed on its First Minnesota Bank transaction, it also dug the foundation for its new Tabor branch, situated not on the edge of town where both access and visibility would be an asset, but on Main Street — a demonstration of the bank's commitment to small town survival. "While they're focusing on a large transaction, they still have said, 'these are our bread and butter,'" said Peterson of the rural communities he oversees. "These are still important to us, and they always will be."
When Peterson suggested the bank add a drive-thru to serve the town's elderly, and buy the lots adjacent to their building, and landscape them to entice businesses to come into town and build next to the bank, Hopkins agreed, despite the extra expense. "He's never called my ideas 'dumb,'" Peterson said. 
Last summer, the bank's commitment to its customers paid dividends when it was named the "Best Bank in South Dakota" by Forbes magazine. Hopkins sent a video message after the honor was announced telling employees it was their doing that won them the recognition. "I was so proud of Jack's message," said Ann Metli, vice president of marketing. 
In a recent email to this magazine, Lowell Wakefield wrote that he has a "high degree of respect for Jack Hopkins and his family." The customers of First Minnesota Bank have adapted well to becoming part of the CorTrust family, McKinzie Hopkins said. "Lowell did a good job of finding an organization that was like his own."
"It had to be the right opportunity," said Weber of the First Minnesota deal. "As much as everybody wants to grow in today's environment, it has to be smart growth. And, you know, smart growth has to do with location, customer base and cost. It has to all make sense."
What the First Minnesota acquisition did for CorTrust is save it time and energy in its quest for growth. The communities were similar; so was the loan mix. "Jack's a pretty methodical person," Weber said. "We can spend a lot of energy buying one bank at a time or we can step up when there's an opportunity like this and buy a group and then we can get back to business. I think that's what this allows us to do."