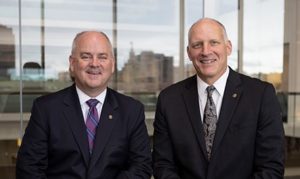 Country Club Bank Chairman and CEO Paul Thompson announced that Joe Close was named president of the Kansas City, Mo.-based institution.
Thompson has served as president and CEO since 2003, and assumed the additional responsibility of chair four years ago, after the passing of his father Byron.
Close has worked closely with the Thompson family since his arrival at Country Club Bank in 2002, having most recently served as metro regional president and chair of the regional presidents' council. He will oversee the direction and administration of commercial programs, products, and services provided by the bank, and will ensure that all aspects of its activities provide the highest level of customer relations and service.
"Our company continues to experience exceptional growth in the breadth and depth of the financial products and services we offer to our clients," Thompson said. "Joe's experience in the banking industry, coupled with his knowledge of our community, allows us to focus his attention on the continued success of the bank."
Close specializes in commercial lending, with 30 years in the financial industry, along with previous experience in commercial real estate throughout the Kansas City metro area. He has served in multiple leadership roles both at Country Club Bank and in the Greater Kansas City community. He earned a BA from the University of Missouri-Columbia, where he was a 3-year football letterman, and an MBA from Missouri State.
"I'm humbled to lead and celebrate the upward trajectory of our dedicated associates who exemplify Country Club Bank's values," Close said. "This is a team I'm proud to work with day in and day out. It's a team I'm proud to watch grow. As we go forward,  we'll continue to adapt, thrive, and remain laser-focused not only on our growth as an organization, but also as a contributing and invested member of the KC community."