The arts, at first glance, don't seem to be a banker's "Field of Dreams." But like the movie that turned a rural Iowa cornfield into a baseball destination, investments in creative economies offer banks a way to grow, or at least sustain, their communities.
Youth involvement in the arts makes a strong case for support when there is concern about the risks of loan underwriting. With "substantial engagement" in the arts, youth are more likely to "do volunteer work, register to vote, hold a fulltime job, and they are less likely to require public assistance or food stamps," according to James S. Catterall, author of "Doing Well & Doing Good by Doing Art."
Spark! Dallas was inspired by the City Museum of St. Louis, and since 2010 has offered extensive individualized art programs and camps from early childhood through the often-overlooked high school age group at a facility in the heart of a low-income neighborhood of big-city Texas.
"By the age of 17, children either define themselves as 'creative' or 'not creative,'" according to research driving the Spark! Dallas mission. "Children who define themselves as creative have higher self-esteem and better problem-solving skills, leading to better performance in school and on the job."
Bank Midwest in northwest Iowa supports multiple arts programs, but gives more as a sustaining member of Pearson Lakes Art Center in Okoboji, specifically, because it offers year-round comprehensive programming to youth and other audiences. The Goodenow Gallery in the center is named for the founding family of bankers now in a fifth generation, more than 130 years, of the combined banks known as Bank Midwest.
"Pearson Lakes Art Center is open year-round and brings together our local residents, youth and our summer residents. It is such a staple in our community," said Mary Kay Bates, president and CEO of Bank Midwest in Spirit Lake and Lake Okoboji, Iowa. The bank is a gold-level supporter (with a minimum $5,000 annual donation), and employees and executives donate time to programs and other needs.
Bank Midwest has been "instrumental in the establishment and  continuing growth of the center," said Bob Kirschbaum, executive director of Pearson Lakes Art Center.
"Support of the arts is something we're passionate about," Bates said of the employee-owned bank with 11 locations and $809 million in assets throughout Iowa, Minnesota and South Dakota. The bank's arts sponsorship reaches across borders. Fairmont (Minn.) Opera House received bank funds for its planned $10 million restoration and elevator installation project. This summer for the first time in its 117-year history, the Opera House is offering a summer series, and the bank is a subscription sponsor.
In New Ulm, Minn., Bank Midwest's foundation awarded a $25,000 grant to State Street Theater for renovations under preservation guidelines to restore a sprinkler system, replace a roof and update seating in the historic downtown building. This was part of a total $500,000 theater project.
"The bank has given to all of these arts organizations in different ways. Arts, youth education and even recreation organizations have been recipients of bank funding," Bates explained.
"Offering a good arts program in our community the size we are is so important," Bates said. "It takes sponsorship to make that happen."
The return on investment, of course, is a question mark. Non-profit arts groups, with up and down income streams, don't fit into a typical loan underwriting structure.
"In the big picture, you have to have that return on investment," and it's not there immediately, said Al Tubbs, former American Bankers Association chair, and chairman & CEO of several banks in eastern Iowa. As the size and scale of the Tubbs family's Ohnward Bancshares brand grew regionally, that made contributions possible, Tubbs said. The bank wanted to be central to those communities.
The Iowa Arts Council speaks to the economic impact of such arts funding.
"We've seen time and time again that smart, targeted investment in arts and culture generates profound ripple effects on the overall economy and future of Iowa communities both big and small," the council reported.
When Greenfield, Iowa (pop. 1,843), developed plans to restore its historic 1896 opera house, it made sense to also restore Hotel Greenfield. Both banks in town, FNB Bank and Union State Bank, joined in a participation loan to the $6.2 million restoration project. Additionally, Union Bank donated a building to what eventually became the Warren Cultural Center, named after a historical dry goods business downtown whose owners started the opera house with a Greenfield banker in 1896. Ongoing, major charitable contributions by Union Bank support seasonal theater productions and upkeep in the center, which is a venue for various community events and weddings, along with being a hotel.
"We do not have specific outreach goals. The bank's goals are to support the community however and wherever we can," explained Peg Scott, CEO/CFO of Union State Bank, who noted the bank has also supported development of wellness and fitness centers, a sports complex and a hospital expansion project through loans and charitable grants.
The so-called "creative economies" do thrive and, perhaps surprising to some, often outpace traditional industries. "By every measure, the results are impressive. Nationally, the nonprofits arts industry generated $166.3 billion of economic activity in 2015," according to "Arts & Economic Prosperity V," the latest report on national arts and economics released last year.
Colorado's five designated "creative districts," shaped by the state legislature in 2011 for the purposes of spurring economic growth, showed that arts "industries" contributed more than either mining or transportation did to the state's economy. Annually, that was $13.7 billion, employing 100,631 people who earned $7 billion, according to a recent accounting by the state Arts and Cultural Production Satellite Account produced by the U.S. Department of Commerce.
In Dubuque, Iowa (pop. 5,851), the nonprofit arts and culture industry generates $47.2 million in annual economic activity, supporting 1,530 full-time equivalent jobs and generating $5 million in local and state government revenues and $36.7 million in household income, according to the national economic impact study.
A textbook kind of "banks and arts" story is unfolding in the rolling hills of eastern Iowa where native artist Grant Wood developed his iconic style of Regionalism. The cities of Maquoketa and DeWitt have, for the past 30-plus years, been intentional in creating an arts corridor including Scenic Byways and earned recognition by the State of Iowa Tourism Office. Complementary to that is a multi-jurisdictional 20-year master plan to upgrade parks, trails, interpretive centers and other cultural tourism in the three-county Grant Wood Mississippi River Region.
For Tubbs, the foray into arts began at the start of his career when the DeWitt opera house closed.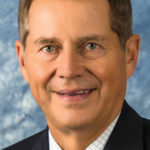 "If we lost that venue, we'd never have a movie theater in our small town again," said Tubbs, a native of DeWitt and head of the local First Central State Bank. He purchased the building for $25,000. Then Tubbs led a group on a three-year fundraising campaign to renovate the original 1878 "Majestic Theatre." They weren't experienced renovators and did a lot of the demolition by hand, but the community of around 5,000 people wanted the theater. In two phases there was $300,000 contributed, mostly donations of $5,000 or less, to create a state-of-the-art cinema and art gallery.
"That first phase remodel in 1982 was sponsored by pancake breakfasts," quipped Dianne Prichard, who devotes volunteer hours to manage the DeWitt Opera House Theater. "The second round we were a little more sophisticated and had fundraisers featuring the University of Northern Iowa Jazz Band." In 2006 they raised $30,000 to purchase the building next door and expand it to seat 231 patrons in the cinema with surround-sound and a balcony that is a hit for birthday parties. The results are truly remarkable. Prichard said moviegoers come from 45 area towns, including the Quad Cities (15 minutes away), for a $5 ticket ($4 for matinees) to watch current Hollywood films in a weeklong run. The recent indie hit thriller, "A Quiet Place," was lauded locally because the screenwriters hail from nearby Bettendorf.
There's also a chance to see regionally famous artwork up-close. The First Central State Bank Art Gallery in the theater's lobby showcases the folksy Regionalist style prints of Grant Wood's protégé, DeWitt native and renowned artist John Bloom. The gallery is in such demand, there's a four-month waiting list to exhibit.
Another centerpiece of the Maquoketa-DeWitt arts economy, since 2004, is The Ohnward Fine Arts Center for visual and performing arts, which draws regional patrons to a variety of events and productions. Title sponsors are again the Tubbs family, and Ohnward Bancshares, holding company of the area's Maquoketa State Bank and First Central State Bank. Planning for the Center dates back to a 1998 Vision Iowa grant. Ohnward founding partners Edward Tubbs and John Fagerland made the initial gifts and raised donations in the range of $4 million to $5 million for the project, which was funded almost entirely by private donations. Al Tubbs and his wife Myrna were also major benefactors, as well as donating a new Yamaha Disklavier grand piano for the theater stage.
Maquoketa solved another problem common to downtown main streets by employing the arts. The community repurposed a 10,000 square foot space of four storefronts to create a public gallery and arts collective that offers exhibits, workshops and events on art, writing, performance and history. The Maquoketa Art Experience once housed the local pharmacy. Retired pharmacist Bob Osterhaus, former owner of the building, now finds his days brimming with passion and enthusiasm for the arts as president of the non-profit board that runs MAE.
This project also provided early lessons to Tubbs: a 501(c)(3) non-profit status was necessary to have the "ability to raise money and make it deductible." A foundation status made regional grants and endowment tax credits possible. The University of Iowa cooperates with curator chalk walks and other events at MAE.
Things were going fine, but Maquoketa — and Osterhaus points out there is only one city with that name (no matter how you pronounce "Mah-KO-ke-tah," or spell it) — really got a boost with the rising international prominence of local artist Rose Frantzen. In 2005, she began painting local residents in order to "see" the town and its people. "No selections by me; let them select themselves. Maybe we'll begin to see each other," Frantzen wrote of the experience. The result was a national sensation: 180 oil portraits, each 12 square inches, exhibited at the Smithsonian National Portrait Gallery in Washington, D.C., in 2009 and 2010.
Frantzen completed her vision for "Portrait of Maquoketa" by painting a 315-square foot landscape view of the town on 34 panels with the resident portraits on the reverse. Suspended from the ceiling, the separate panels become a whole image when viewed at a distance in a sort of trompe l'oeil. That work is now in the permanent collection at the Figge Museum in Davenport, and tours frequently. Subsequently, Iowa State University in Ames took notice and commissioned Frantzen to paint a portrait series of notable alumni. Among them is Al Tubbs' father Edward, his predecessor in the family banking business.
Frantzen, her photographer husband Charles Morris, and Frantzen's parents Ellen and Wayne, have all been actively involved in establishing, exhibiting and attracting regional artists to exhibit and do workshops at the Maquoketa Art Experience. A modest grant from the Iowa Arts Council allowed Frantzen and her family to purchase the former 1901 city hall. The Old City Hall Gallery was established in 1992 and is now, quite literally, a place that shouldn't be missed – but sometimes is by locals, despite its standout purple and green turn-of-the-century exterior. It's a treasure that Frantzen and her family keep upgrading to showcase the gallery of her vibrant painting and sculpture that continues to populate national galleries and win international awards of merit.
Why do bankers like Tubbs make such a point of arts contributions? Support of the community "has always been the mission of community banks," Al Tubbs said, but that has become more necessary for business with the trend of community banks branching into regional trade centers. For Ohnward Bancshares that includes the metropolitan Quad Cities as well as the small rural towns in its portfolio of $1.1 billion in assets. Besides the financial reasons, "Giving is just the right thing to do," Tubbs said.
"But we're only as strong as our community is strong and growing." The Maquoketa community is not growing, he noted. "So we focus on maintaining and growing the quality of life without growing the tax base."
There are, admittedly, ups and downs. "I'm not sure we've got the answer yet," Osterhaus said, adding he realizes the results of efforts won't be seen by his generation. "It requires financial commitment as well as time and planning. The investment in culture is long-term, 15 to 20 years."
But quality of life matters. "We want to bring art into the everyday lives of the community. We want to meet, see and create here," Osterhaus said. The local arts board recently took stock of "who we were, are and want to be" in its community mission.
"We still have some good people," said Osterhaus, ever the promoter. "And stock cars can co-exist with operettas."