Dawn Fitzgerald has been named the market president of Dacotah Bank in Rolla, N.D. The Aberdeen, S.D.-based bank also promoted Valerie Edwards has been promoted to market retail leader in Rolla.
Fitzgerald had previously held the position of business banker at the Rolla location. Shehas 25 years of banking knowledge. She started her career as a teller and has been promoted over the years to customer service representative, loan assistant, personal banker and most recently, business banker. She is a 2005 graduate of the Dakota School of Banking.    
A Belfield, N.D., native, Fitzgerald grew up on the family farm/ranch 10 miles south of town. She has served as president and board member of the Lake Region Bankers Association. Currently, she is the secretary for Immanuel Lutheran Church of Rolla and a member of Rolla Job Development Authority.
Edwards has over 40 years of banking knowledge to this position. She is a graduate of North Dakota School of Banking.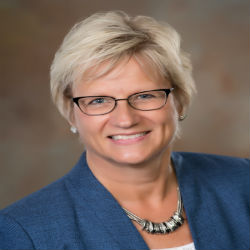 Mary Kay Lindberg was also recently promoted to market retail leader at Dacotah's branch in Jamestown, N.D.
She attended Valley City State University, Valley City, N.D., and has been a recipient of the Customer Service Award through the Jamestown Area Chamber of Commerce.