Dacotah Bank in Fargo, N.D., donated $4,000 last month to the local nonprofit Great Plains Food Bank.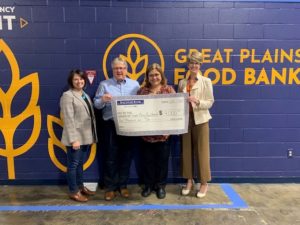 The donations, collected from Sept. 12-16 in the bank's lobby, coincided with Feeding America's Hunger Action Month. 
Dacotah Bank collected non-perishable items and monetary donations and donated an additional $2,500 itself. "Dacotah Bank is committed to supporting the communities we do business in, and we are proud to support Great Plains Food Bank as they work to provide food for those in need," said Dacotah Bank in Fargo Market President Judd Graham.
Great Plains Food Bank is the only food bank in North Dakota.
 "This gift comes at a critical time for us as we are facing our most challenging situation since the start of the COVID-19 pandemic," said Melissa Sobolik, Great Plains Food Bank CEO. "With food donations expected to be 1 million pounds fewer than last year due to inflation and supply chain challenges, we need to purchase more food than ever in our 39-year history to fill this gap. I can't thank Dacotah Bank enough for their generous support in the fight to end hunger."