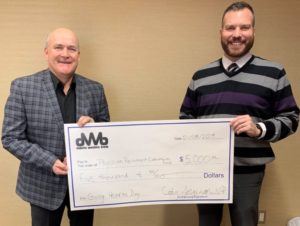 Dakota Western Bank, Bowman, N.D., recently donated a $5,000 matching gift as part of the 2019 Giving Hearts Day fundraiser of West River Health Services Foundation.
Giving Hearts Day will be held on Thursday, February 14, 2019.  The gift was directed toward the New Physician Recruitment Endowment Fund at WRHS Foundation.
The Endowment Fund was established strictly for Physician Recruitment Endowment efforts – physician signing bonuses, physician student loan forgiveness, and development of an ambassador program to strengthen relationships with students who have been educated through WRHS.
Finding medical professionals to work and live in rural areas has presented a challenge. Bankers have stepped up to help their communities in different ways, from monetary donations to helping establish educational options specifically dedicated to rural communities.
West River Health Services serves 20,000 people in Adams County and is the largest employer in the Hettinger, N.D., area.
The $269 million Dakota Western has four branches in North Dakota.