The customer experience reigns supreme, but so does how a bank differentiates itself by its choices in location and design. When it comes to a physical future, "the biggest question bankers have is 'what's my bricks and mortar going to look like?'" said Adam Holmes, president and CEO of Vanman Architects and Builders, Minneapolis.
Design-build firms such as Vanman, Turnkey Associates and Kirk Gross Company, both of Waterloo, Iowa, and Twin Cities-based HTG Architects, have each adapted their service approach over the years to provide answers to that question and others. Today's design-build firms emphasize a full-service consultative approach to bank architecture that takes into account retail trends, community needs, and yes, bricks and mortar.
Third spaces
One design trend continuing to appear in remodels and new construction in Midwestern community banks is the addition of a community room to serve customers and the public. Turnkey Associates has completed three community rooms in three years for Luana Savings Bank. One recently completed project is a 15,000-square-foot branch in Polk City, Iowa, near Des Moines. It features a huge community room, said Turnkey's Scott Voigt, because the $1 billion bank prioritizes giving back to the community.
Typically such spaces see a variety of uses. Tables and chairs are foldable and stackable, on wheels. For training, there may be high-tech monitors and screens for digital presentations. There is a lot of counter space for buffets, but not a big commercial kitchen with cooktops because health department regulations preclude that. Instead, Heartland Bank in Gowrie, Iowa, last year opened a new community room with a wall oven for warming and baking items, which was legal.
"Focusing on the third space is what we're seeing: the addition of a coffee bar or a continuing education center," Vanman's Holmes said. Banks may promote their space through the Chamber of Commerce and view it as a way to reach out and serve the community. Usually offering services during banking hours, some banks choose to create a separate public entrance for after-hours use. This was true at Luana Savings in Polk City. Customers with at least a checking account at the bank may reserve the space for free while non-customers pay a fee, said Voigt. The concept has been so popular, Luana Savings Bank is creating a large community room at a new branch under construction in Norwalk, Iowa. Voigt said his company has seen a return to this trend with about 50 percent of bank projects including a community room over the past five years.
Not all community rooms in banks are huge. More customers of design-build firm Kirk Gross Company are opting to build a large conference room. "Depending upon the town, the local board of Realtors, for example, could use the space during the day," said Ben Buckley, Kirk Gross president. Generally, banks "are looking for a differentiator, looking for a better experience."
"Financials are no longer a destination," said Mike Orth, vice president and branch manager of HomeTown Bank in Waconia, Minn., whose bank offers one of the more successful examples of co-sharing a space. The bank occupies one-third of the 12,000-square-foot space with tenants including financial services, insurance and title companies. The busiest draw for teens, families and business meetings, however, is Mocha Monkey Coffeehouse, which operates adjacent to the interior bank lobby.  
"A coffee shop is one opportunity for foot traffic to cross-sell services," Orth said. Working with HTG Architects, the bank intentionally repurposed its branch space, putting lenders at desks right by the front door. Employees were cross-trained to multi-task in a universal banker-style approach, Orth said. Not only are they busy, but staff is "very well caffeinated," Orth joked. But the changes have literally paid off and set a new standard of branch design, he said. The Waconia branch has grown to be the largest of 10 HomeTown branches since its 2014 remodel. Orth said the branch has opened 5,000 accounts and does more than 4,000 transactions per month and $120 million in loans.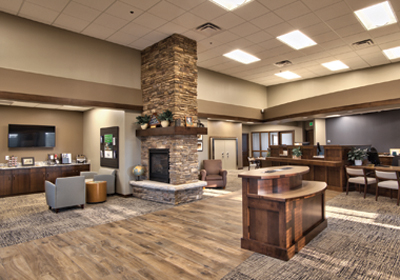 "If we did have an opportunity to do this [design] again, this would be a model for entering a new community," Orth said. "We would definitely do it again." Sean Raboin of HTG, the design architect for the project, agreed. "It's all about relationship building and banking, to make money through lending." The business focus is not on making the transaction, but "to make it about the experience. Stay, have some perks while the customers are there. Have a more comfortable setting," Raboin said.
"Sometimes you go into a bank and it's a ghost town in there; it's quiet like a library," Raboin said, contrasting the picture with a vibrant bank where a new family comes in and sees activity and noise.
Not to be overlooked are the design impacts on the employees who work there. "You do have to kind of take the good with the bad," Orth said of the busy distraction a casual atmosphere affords.
In some banks, creation of a substantial lobby fireplace creates a warmth that some customers comment on, but "it's actually that much more enjoyable for staff, too," said Anita Drentlaw, president of New Market Bank in Elko New Market, Minn. That fourth-generation family-owned bank left its central downtown location to move to a location more accessible to automobile traffic, becoming the anchor tenant in a 9,600-square-foot, first phase of a project retail center. That linear center, designed by HTG and built by Greystone Construction, includes traffic at a karate training studio and a Chinese restaurant. Vanman designed the bank's space within the center.
Interestingly, Drentlaw said the bank's move has resulted in "maybe a little less" customers visiting the bank.  But, she said they've gained traffic because of a drive-thru window and better access with a parking lot. "We're excited to be part of bringing some new businesses to town and being the newest building to go up in recent years," Drentlaw said.
Where's the bank?
Like New Market Bank, First Security Bank in Manly, Iowa, also recently moved from a downtown location with a standard 20-foot storefront in an older building to a brand new facility on a highway corner. A Casey's General Store across the street attracts steady traffic and drive-up capability added to the bank's business. Working with Kirk Gross Company, the bank created a strong presence with a dramatic 22-foot wall on a modern-looking building. The bank interior features distinct counter areas with "cylinder cloud" design-elements hanging from the ceiling.
"I think the town is definitely okay with the bank's move," explained Kirk Gross' Buckley. "Their tax base will go up considerably because of the new construction."
The design-build process not only opens doors for new customers, but offers banks a way to re-think the way they do business. Granite Community Bank in Cold Spring, Minn., is an example of full-scale transformation. The bank not only built a new 14,000-square-foot headquarters, but re-chartered and rebranded five years ago from its 1902 origins as the First National Bank of Cold Spring. Located in a central Minnesota community internationally renowned for granite, it was imperative that the new bank design and logo "exude stability, strength and safety," said Gerald Reiter, president. At the same time, the bank shifted from the traditional teller line, which it considered to be a "barrier," to concierge stations with cash recyclers. This freed up teller time for more conversation with customers in the process of transactions.
This was a big transition particularly for long-tenured employees; three have been with the bank more than 40 years, said Reiter. They have learned to be flexible and they've learned new technology, which now they would not want taken away, observed the architect Raboin, who recently visited the bank.
The new location of Granite Community Bank, though blocks away from the old one, created high visibility with 15,000 to 20,000 cars per day passing by. A community room with a 35 to 40 person capacity, "provides us a nice opportunity to serve the community," Reiter said.
What's the process?
Obviously, a wealth of strategic and tactical planning, and staff time, is needed to accomplish a broad-based transformation as it did at Granite Community Bank. Design-build firms are happy, and strategically aligned, to help. Some, like HTG, have their own registered process of research and planning, design and coordination geared specifically toward the financial industry. Their "Evo-Bank" process was established in 1990, Raboin said, evolving from marketing work with a tech expert for a trade show.
"We try to know what's happening in the financial world on-site, and online, and in different regions. ITM, for example, is a pretty hot tech word in the industry," Raboin said, referencing the interactive teller machines. "My job is to expose my clients to everything that is happening."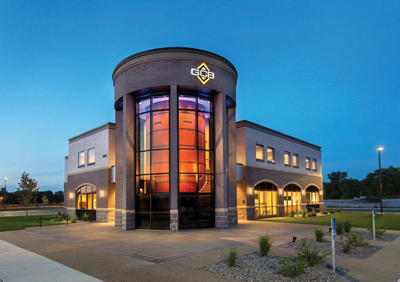 This process starts with a full day vision-session, walking clients through 30-plus pages of questions. "Some things look great, but maybe don't fit their culture," Raboin said. "We consider the experience and banking relationship as the key."
Reiter of Granite Community Bank said a lot of companies were available for his bank project because he started interviewing contractors during the economic downturn of 2012. Ultimately, he found HTG's process tracked closely with his own management style. "It's consultative. Bringing everyone in the organization into the process really brings us the best possible outcome, instead of this being 'Jerry's project' or 'the owner's project,'" Reiter said.
"One Source" is the plan, design, build and furnish process of Kirk Gross Company. Founded in 1937 as Steel Case, a furniture supplier of steel garbage cans to reduce office fires, it expanded with the purchase of a construction and architecture firm in 1970. A full-day meeting with clients is held to assess all needs. Forecasting is done to project three, four and five years, said Buckley. Government compliance may be driving some of the needs banks have, and that's factored into plans. New buildings are, he said, trending smaller and are designed to have more appeal — 2,500-square-foot banks, down from 6,000.
"Banks are compacting a lot more into one space. One employee does a lot more," Buckley said, noting the move to a more flexible universal banker style. But there is a mix, depending upon the size of the community. "Downtown Des Moines is different than Marceline, Mo.," he noted.
"Architecture was the first box checked a few years ago," explained Voigt of Turnkey Associates. "Now design-build services is the bigger draw for clients. This is a newer trend. As this has changed, we have offered market studies, feasibility studies; [we] go out and interview the banks and see how they want to expand and in which markets. We study whole markets for those towns," Voigt said.
Being members of bankers associations in several states is one selling point for a company's expertise. Voigt explained this marketing and networking was important to a bank client. "Then we have resources as we look at different areas to see how markets match up, finding physical locations," he said.
It used to be the other way around, Voigt said. A bank would call with suggested locations and say, "What do you think? Then, they'd get huge sticker shock when we'd follow up."