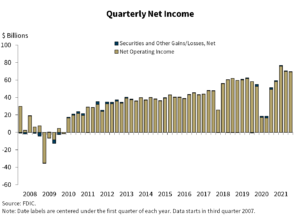 FDIC-insured institutions made $69.5 billion in net income during the third quarter, a nearly 36 percent increase from a year ago.
The increase, reported Tuesday as part of the FDIC's Quarterly Bank Profile, was sparked by a nearly $20 billion decline in provision expenses. Two-thirds of all banks reported annual improvements in quarterly net income, and the share of profitable institutions year-over-year slightly increased to nearly 96 percent. 
Net income decreased 1.2 percent from the second quarter, however, due to the $219 million increase in provisional expenses during that period. The net credit charge-off rate dropped to its lowest level on record, and the share of industry loans at least 90 days late declined for the third straight quarter, to the smallest percentage in 14 years. Loans 30 to 89 days delinquent are also close to the lowest ratio to total loans the FDIC has ever reported. The industry's tier 1 risk-based capital ratio, which climbed to the highest level ever reported by the FDIC last quarter, held steady at 14.27 percent. 
Community banks saw a net income increase of 19.6 percent or $1.4 billion from third quarter 2020. Provision expenses at community banks declined $1.4 billion (83.5 percent) from a year ago and increased $219.2 million (427.9 percent) from the previous quarter. Net interest income rose $2.2 billion (11.7 percent) from a year earlier, buoyed by higher commercial and industrial loan income, including from the payoff and forgiveness of Paycheck Protection Program, the FDIC said.
Total loan and lease balances increased $62.7 billion (0.6 percent) from the previous quarter. Key drivers were 1-4 family residential mortgages (up $41.3 billion, or 1.9 percent), consumer loans (up $39.6 billion, or 2.3 percent), nonfarm nonresidential commercial real estate loans (up $24.5 billion, or 1.5 percent), and loans to nondepository institutions (up $24.2 billion, or 3.9 percent).
"Backed by strong portfolios, banks recovered reserves for the third straight quarter while maintaining total reserves well above the pre-recession levels from 2019," said Sayee Srinivasan, American Bankers Association chief economist and head of research. 
Net interest margin improved to 2.56 percent in the third quarter, up 6 basis points from the recent record low in the previous quarter but down 12 basis points from 2020. Community bank NIM increased 3 basis points from the year-ago quarter to 3.31 percent, as the continued reduction in average funding costs outpaced the decline in earning asset yields. 
Other findings included:
Earning asset yields increased 5 points from the previous quarter's record low to 2.73 percent. Also, average funding costs decreased 1 basis point from the previous quarter to a record low of 0.17 percent. 

Nearly three-quarters of banks reported higher net interest income than in 2020. 

Banks reported an aggregate return on average assets ratio of 1.21 percent, up 24 basis points from a year ago but down 3 basis points from the previous quarter. 

Bank deposits increased 2.3 percent from the previous quarter. 

Three new banks opened during the third quarter: FWBank, Chicago; Genesis Bank, Newport Beach, Calif., and Waterfall Bank, Clearwater, Fla.