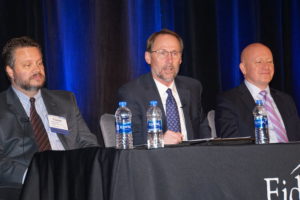 The sputtering economy has everyone "searching for yield," commented Creighton University Economist Ernest Goss, who addressed bankers in Des Moines, Iowa on Nov. 14. Goss and other speakers at the half-day seminar hosted by the Eide Bailly accounting firm, shared concerns about the economy and banking sector conditions, but generally offered upbeat industry assessments.
Although concerned about a bubble in bond prices, Goss said the economy is reliable, with recent income tax cuts boosting conditions. Goss does not expect additional rate cuts from the Fed, which cut three times in 2019. At this point, Goss said, "The Fed is out of ammunition."  Goss does not believe additional cuts would stimulate further economic growth.
In agriculture, Goss is optimistic. Land prices have come down modestly, although rent has remained steady. "I don't expect much of the air to come out of that bubble," Goss said. Farms are getting larger as land owners buy up parcels as they become available. Goss noted that this results in lower population in rural areas, which makes it more difficult to fund hospitals and other essential services in rural communities. Long term, however, Goss said the U.S. farm sector is a reliable provider of food to the world.
Eide Bailly consultants offered additional observations. Ag lending expert Mike Schaefer wondered whether some bankers may have relaxed loan underwriting standards in light of strong farmland prices. He also noted that 10 percent of ag producers hold 80 percent of ag debt. "When they fall, they are going to fall fast," he warned.
Based on extensive loan review work, Eide Bailly's Greg Clausen said the biggest area of concern is restructured carryover operating losses. He also noted that land rent is not coming down, which is making it more difficult for farmers who are getting less money for their harvest. Clausen said he is surprised more farmers don't do a better job marketing their crops, which would help them get better prices. He suggested lenders might be able to help farmers with this.
Clausen encouraged bankers to have conversations with customers who have a lot of carryover debt. He also urged bankers to assess their lending staff. "How many have been through tough times?" he asked, "Have they ever had to say no?"
He encouraged bankers to sit down with farm customers early in the season and discuss what course of action they would take if their cash flow projections proved to be too optimistic. "Discuss what will happen if the operation comes up short," Clausen said. "It leads to some good discussion."
Regulators Jeff Plagge, Iowa Superintendent of Banking; Corey Gable, assistant vice president and Iowa Director for the Federal Reserve Bank of Chicago, and James LaPierre, Regional Director in Kansas City for the FDIC, all acknowledged the importance of monitoring restructured carryover debt from operating losses. They acknowledged the uniqueness of each loan and each situation. LaPierre shared something he heard from another industry speaker recently: "Think about what is the appropriate structure for that debt regardless of whether that means classification."
Plagge said: "If you are going to restructure, do it once and do it right." While conversations with struggling customers can be difficult, Plagge, who was a senior ag lender in the 1980s, said "conversations are so much better now than they were in the 1980s."
LaPeirre said his top industry concerns are: ag, liquidity and cyber security, the same as they were last year.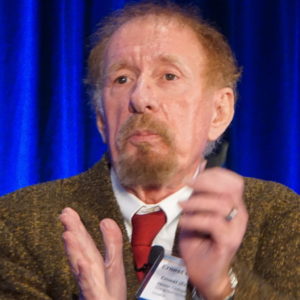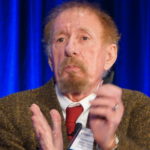 Goss used some of this time on the stage to comment on the political environment, as a parade of candidates seeking the Democratic Party nomination for president files through Iowa. Goss criticized candidates who would significantly increase taxes. He said statistics show the positive impact of the tax cut implemented in 2017: GDP growth during the first two years under President Trump, he said, was 9.9 percent compared to the last two years of President Obama's administration, when it increased 6.4 percent. Job growth in the manufacturing sector increased 3.7 percent during 2017-18, compared to 0.5 percent in 2015-16. He said wages increased 9.4 percent compared to 8.2 percent during those timeframes.
Goss acknowledge the problem of income inequality but he said the solution does not involve the government redistributing wealth; the solution should be about increasing opportunities for everyone.
This event was the last of five one-day seminars conducted by Eide Bailly throughout the Upper Midwest. With the Eide Bailly seminars going back 39 years, it was the second consecutive year the tour has included Des Moines.