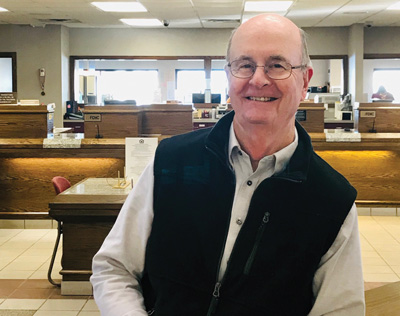 Editor's Note: Amazing Outside Directors are people who invest in the success of their local community banks by contributing skills, insights and analysis to bank governance, all while helping their institutions develop new relationships. BankBeat thanks program sponsor Eide Bailly for helping us tell the stories of these amazing individuals.
At a board meeting for First State Bank Southwest in 1997, director Erlin Weness sat prepared to offer the same brand of thoughtful input he'd brought to meetings since joining the board a decade earlier.
In stepped Greg Raymo, recently hired as chief credit officer at the Worthington, Minn., bank; the new arrival brought some equally new ideas. He wasn't convinced FINPACK, an agricultural financial analysis software from the Center for Farm Financial Management at the University of Minnesota, was offering all the right features the bank needed. He put forward the name of a competitor's software.
Weness listened to Raymo's pitch, then leaned forward and asked for more details: What precisely didn't Raymo like about FINPACK? Raymo gave his reasons, and the board adjourned. A few days later, someone from the University called Raymo for a more in-depth conversation about how they could improve FINPACK based on his feedback.
What Raymo didn't know was that Weness, a longtime extension employee of the University, had been instrumental in the creation of FINPACK. "Out of pure respect, he let me share my opinion, share what I thought was best, and then, without embarrassing me, quietly followed up and had them indirectly contact me," Raymo said.
That attitude sums up Weness and his contributions to the board, said Raymo, now president of the $250 million bank. Weness didn't push his own view or make a fuss about the fresh employee coming in with a litany of changes.
Informed of his selection as a BankBeat 2019 Amazing Outside Director honoree, Weness at first insisted there must be some mistake: "You had better check if you have the right guy."
Raymo, and the testament of Weness' work on the board, amply contradict that sentiment. That humble, down-to-earth attitude is, however, in abundant evidence in Weness' contributions to the First State Bank Southwest's board in his 33 years of service. It's part of what has made his input so valuable for the bank.
"He wants to be behind the scenes getting stuff done. He's a great listener, so when he does speak, his comments are well thought out," Raymo said. "They're very rational detailed comments that he's thought through carefully."
That personality trait was well-suited to Weness' work during his 34 years with the University, driving long hours across the plains of southwestern Minnesota, bringing financial education and skills to the area's farmers. After retiring from his extension work in 2002, he continued working with the area's farmers as an independent consultant and tax preparer.
Raymo, a CPA by trade, even has a history with Weness extending back to his days before joining First State Bank Southwest. The elder statesman taught continuing education classes in Marshall, Minn., where Raymo honed his skills.
Serving on First Southwest's board, Weness was able to provide the perfect blend of agricultural knowledge and calm logic. He has always been in tune with the ag economy and what was going on with farmers, Raymo said. "We never had a farmer on the board because Erlin represented the farm community on the board," he said. "Erlin was able to objectively represent them without the emotional ties to agriculture. That's a huge asset to have on a board."
Weness' blend of agricultural know-how and level-headedness proved valuable from his first meeting. He joined the board in 1986 and was immediately plunged into the heat of the farm crisis. "There were a lot of long days, a lot of stress," Weness said. "Some of your friends were getting forced out of farming, some of your peers that you knew, and it was difficult."
Now that he's looking down the road to his retirement from the board at the end of the year, Weness doesn't have grand plans. He might spend a little more time with his personal library as things scale down over 2019.
He's heavily involved in nonprofit work in the community, and plans to continue this once he hangs up his bank director hat. He's been instrumental in pushing the bank to reach a charitable giving level of 10 percent of its profits back to the community.
In his assessment of his career, Weness was quick to credit others for the bank's success.
"If I look back at it, it has been due to the excellent employees and excellent management that we've had," he said. "They work hard, they're dedicated, and that makes being a director pretty easy."
Once again, Raymo stepped in to set the record straight.
"We owe him a debt of gratitude for serving in this capacity," Raymo said. "Erlin has been incredibly kind and generous in his service on the bank's board and in the community."