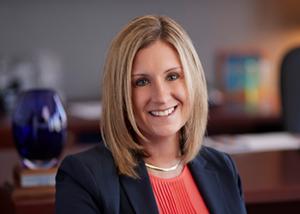 Emily Abbas' career at Bankers Trust could be best described as prolific. The marketing professional, hired by the Des Moines-based bank as its first chief of staff in 2014, was promoted to chief marketing and communications officer within her first six months on the job.
Currently Bankers Trust's chief consumer banking and marketing officer, Abbas is being recognized as one of BankBeat magazine's 2022 "Outstanding Women in Banking."  
Abbas was promoted to lead all consumer business lines at the $5.6 billion bank in March 2020, just as branches started to close during the pandemic. The onset of the pandemic forced Abbas to shift from her original plan of visiting branches and departments. Instead, she offered to shadow employees, including a mortgage loan originator, loan processor, loan closer and front-line branch staff. She also delivered cookies to staff through a drive-thru window and provided frequent updates on key leadership decisions as the pandemic unfolded. 
 "Due to the lockdown, I had to throw my 'listening tour' plan out the window and focus on being an advocate for these essential workers and our customers whose lives were also turned upside down," she said. 
 A cornerstone of Abbas' leadership approach is trusting the 225 retail and private bankers she oversees as experts in their fields. Abbas and those she oversees share pertinent information with each other and attend local and national conferences on a consistent basis.
She played a pivotal role in forming cohesion between marketers and staff in other units by reaching out to offer support and guidance when needed. A marketing employee was then assigned to each division. 
That leadership approach has worked. Bankers Trust's marketing and communications department has consistently had the highest engagement of any in-house team in biannual employee engagement team surveys since she assumed leadership of the department eight years ago. 
Abbas has also effectively overseen crucial customer-facing initiatives. She led the way as Bankers Trust embarked on a home equity line of credit campaign earlier this year. Despite the bank allocating no additional marketing dollars on the initiative, Bankers Trust had opened four times more HELOCs as of September than it had in 2021. 
"Through this and other recent changes to our home mortgage product offerings, [Abbas] has shown she is responsive to what's happening in the market and able to deliver the right products to serve people's needs at the right time," wrote Abbas' Outstanding Women in Banking nominator, Marketing and Communications Officer Abby Delaney. "[Abbas] constantly pushes herself, her team, her mentees, and her community to try new things to move us forward." 
Abbas is distinguished both in her professional life and in the Greater Des Moines community. In her role, Abbas oversees Bankers Trust's annual $1 million in community giving as well as employee volunteerism. A podcast she started in February to elevate the work of nonprofits, "Community Difference Makers," has already been downloaded nearly 1,500 times, far surpassing the bank's goal.  
A community leader, Abbas chairs the Des Moines Community Playhouse capital campaign; and serves on the boards of the United Way of Central Iowa, MercyOne Des Moines Medical Center, Bravo Greater Des Moines, Better Business Bureau and many other organizations. 
"For several decades I have spent as much of my free time as possible volunteering and serving on nonprofit boards," Abbas said. "That's one reason why working for a community bank is a perfect fit for me." 
Abbas has received numerous statewide and national awards, including, "The 2021 Woman of Influence" by the Des Moines Business Record; was one of "14 People to Watch in 2014" from 
The Des Moines Register; and was recognized as "PR Professional of the Year" from the Public Relations Society of America in 2011 and 2014.
Delaney, who previously worked with Abbas at a marketing agency, said Abbas' strong leadership skills prompted her own move to Bankers Trust. "I know what kind of leader she was — constantly challenging me to push my own limits, find a better way, and seize development opportunities," she said. "She always looks for ways to lift up her team and helps each of us do our best work."