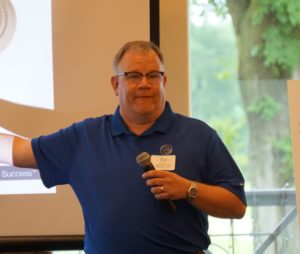 The number of bank merger and acquisition transactions has declined each of the last four years across the country, and particularly throughout the Upper Midwest. Ed Usalis, vice president of Bank Value Advisory Services for United Bankers Bank told a group of bankers recently that he expects the deal volume to continue to decline. "I do not expect to see the floodgates open on transactions," he said at the June 18 Golf Classic hosted by UBB in St. Louis Park, Minn.
The number of deals across the nation peaked at 475 in 2014 and four years later, the number had dropped to 370 deals in 2017. In the Midwest, consisting of a region spanning from Ohio to the Dakotas, the number of deals declined from a peak of 197 in 2014 to 135 in 2017, Usalis reported.
While some experts are predicting the loss of some 2,000 charters in the next 10 to 20 years, Usalis said: "I don't believe there will be that level of consolidation." He commented that he believes there are enough high-net-worth individuals banking in small communities who will continue to want the personal service only smaller banks can deliver. "They don't want their community bank to go away," Usalis said. They like "being able to walk in and know the president of the bank, know the loan officer."
Usalis said bank valuations are historically high, reflecting investor optimism related to revenue growth, efficiency, lower taxes and a higher return on equity. Usalis said community banks are generally in a "good spot" with respect to earnings and return to shareholders. He said the rising rates are helping, as most bankers wait for neighboring financial institutions to raise rates on deposits before they elect to do so. Furthermore, he said, loan volume continues to grow, although the growth rate is slowing.
Usalis noted that smaller banks have some advantages over larger banks; for example, their cost of funds is generally lower. In addition, smaller banks generally realize better yields on loans and leases, a fact Usalis attributed to lenders in smaller institutions likely knowing their customers better then lenders in larger institutions.