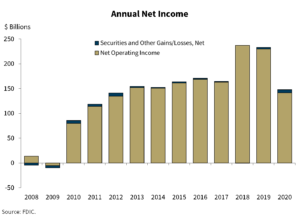 The total net income of banks and savings institutions insured by the Federal Deposit Insurance Corporation was $59.9 billion in the fourth quarter of 2020, according to the latest Quarterly Banking Profile. 
Due in part to a reduction in provision expenses, the quarterly net income increased 9.1 percent from what it was the year before. Community banks reported a 21.2 percent increase in quarterly net income year-over-year. The 2020 full-year net income, however, declined 36.5 percent to $147.9 billion. 
"The unprecedented inflow of deposits — up 22.6 percent over 2020 — continued in the fourth quarter," said Rob Strand, a senior economist for the ABA, commenting on the quarterly report. "This is largely due to consumers and businesses seeking the safety and security of banks as well as cash infusions from federal stimulus programs."
In 2020, community banks reported net income growth of $1.3 billion, a 38.1 percent increase in provision expense, and a narrower net interest margin from a year ago. The improvement is in part due to loan sales, which were up $1.8 billion or 159.1 percent. More than half of the 4,559 community banks included in the report had a higher quarterly net income. 
The banking industry's quarterly net income was $59.9 billion, increasing $5 billion or 9.1 percent, from what it was in the fourth quarter of 2019. The reduction in provision expenses drove the improvement in quarterly net income, and 57.4 percent of all banks reported annual improvements in quarterly net income. The share of unprofitable institutions was 7.3 percent, remaining relatively stable from a year ago, the report said. Return on assets was 1.11 percent during the fourth quarter, up from 0.97 percent the previous quarter, but down from the high of 1.41 percent in the third quarter of 2018.
The banking industry as a whole reported a full year net income in 2020 of $147.9 billion, down $84.9 billion from 2019. The high provision expenses in the first half of the year was a main reason for the decline, the report said. ROA declined to 0.72 percent in 2020, down from the previous year's 1.29.
Net interest margin also remained unchanged, carrying over the third quarter's record low level at 2.68 percent, down 60 basis points since Q4 2019. Net interest income declined for a fifth consecutive quarter, dropping by $5.4 billion or 3.9 percent from a year ago. The yearly reduction in yields on earning assets outpaced the decline in average funding costs, which were reported to be at record lows. Fewer than half of all banks — 42.9 percent — reported lower net interest income compared to a year ago.
Loan balances declined from the previous quarter, led by a decline in commercial and industrial lending. In Q4 2020, total loan and lease balances fell from the previous quarter by 0.4 percent, or $47.7 billion, mainly due to a reduction in commercial and industrial lending. C&I lending declined by 4.1 percent or $103.8 billion from the third quarter 2020. In the past year, loan and lease balances increased by $345 billion, or 3.3 percent –– the lowest annual rate since 2013.
Community bank loan and lease volume, however, only declined by 1.6 percent between 2020's third and fourth quarters, and annual loan growth for community banks was relatively strong at 10.3 percent. This was mainly due to lending activity in the first half of 2020.
Asset quality metrics remained stable, both from the previous quarter and from a year ago. In the fourth quarter 2020, noncurrent loans increased by $944.9 million or 0.7 percent. The noncurrent rate for total loans rose by 1 basis point from Q3 2020 to 1.18 percent. The yearly net charge-offs declined by nearly 20 percent or $2.8 billion, corresponding to a reduction in the total net charge-off rate to 0.41 percent, down 13 basis points.
The deposit insurance fund's reserve ratio also declined one basis point to 1.29 percent from the previous quarter, resulting from strong estimated insured deposit growth, the report said. The fund totaled $117.9 billion in the fourth quarter, up $1.5 billion from the previous quarter, mainly led by assessment revenue and interest earned on the fund's investment securities. 
According to the FDIC report, mergers and de novo openings continued in the fourth quarter of 2020. Three new banks opened, 31 institutions were absorbed through mergers, and two banks failed. The number of commercial banks and savings institutions that filed fourth quarter Call Reports and are insured by the FDIC is 5,001, as of Dec. 31, 2020.
"America's banks continue to display strong fundamentals and remain positioned to withstand ongoing economic headwinds," Strand said.