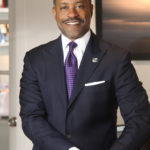 Eric S. Smith, currently the Chicago regional president of Fifth Third Bank, will transition to chief operating officer of the region once the pending merger with MB Financial, Inc., closes.
He will report directly to Mitch Feiger, who currently serves as president and CEO of MB Financial. Feiger will become CEO of Cincinnati-based Fifth Third Bank in Chicago after the closing, expected in the first quarter.
"Eric has led our Chicago region through a period of growth and transition. His work in Chicago over the past two years has helped position the Bank for the opportunity we are pursuing with MB," said Greg D. Carmichael, chairman, president and CEO of the $140 billion Fifth Third Bancorp. "Since the planned merger was announced in May, Eric and his leadership team have taken on significant additional responsibilities to enable a smooth integration, while continuing their steady focus on taking care of our customers and our communities. I am looking forward to his continued success in his new role."
Once the merger is closed, Smith will assist with onboarding the leadership team members joining Fifth Third from MB. He will continue as regional president until the merger closes.
Smith joined Fifth Third in 2016 from JPMorgan Chase, where he most recently served as chief financial officer of middle market banking. Prior to assuming that role in 2011, he was a managing director in the investment bank, where he served as head of the North American Food and Beverage Group. He also was responsible for advising Fortune 500 consumer product companies on merger and acquisition transactions as well as debt and equity underwritings.
He currently serves as the chair of the board for the Chicago Urban League, chair for Ann & Robert H. Lurie Children's Hospital Foundation, vice chair for Goodman Theatre, and an executive committee board member for Lyric Opera of Chicago.