First Business Financial Services, Inc., of Madison, Wis., announced that Chair Jerry Smith will retire from its board of directors on Oct. 26. Gerald (Jerry) Kilcoyne will take over at that time from Smith, who will remain in a consulting position to smooth the transition.
Smith was founding CEO of both First Business Bank and its parent holding company, having started First Business in Madison in 1990. As the first business-focused bank in the Midwest, First Business has expanded since then to employ more than 250 experts who provide highly refined financial solutions to drive growth for businesses and high net worth individuals.
"I have had the pleasure of working with Jerry Smith for over 25 years," said Corey Chambas, CEO of the $1.9 billion First Business Financial Services, Inc. "I will obviously miss working with him, but am happy that he will be able to pursue a well-earned retirement after an amazing 50 years in banking. Having said that, I am very excited to work with Jerry Kilcoyne as chair after having worked with him previously as a director of the company and as the bank board chair."
Smith has served as a First Business director since 1990, and chair since 2006. He served as CEO from 1990 to 2006, and as president from 1990 to 2005. He also served as president and CEO of First Business Bank from 1990 to 1999, and as chair of the bank's board from 2001 to 2003.
Kilcoyne has served as a director of the holding company since 2011. He is a member of the audit  and compensation committees and previously served as a director and chair of the First Business Bank board, as a director of First Business Equipment Finance, LLC, and as a director of Alterra Bank from 2016 until 2017 at which time Alterra Bank was consolidated into First Business Bank. He has been involved in mergers and acquisitions as an investor, owner and operator of businesses for over 30 years and has been managing partner of Pinnacle Enterprises, LLC, a private investment holding company, since 1997.
"I am proud to accept this expanded role with First Business," Kilcoyne said. "I've had the honor of working closely with founder Jerry Smith and CEO Corey Chambas for the past 12 years. I strongly believe in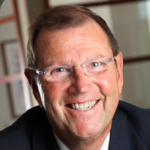 the potential of the First Business model and look forward to helping the company take advantage of future growth opportunities."