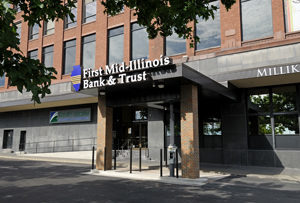 A pair of Illinois banks will merge later this year. First Mid-Illinois Bancshares will acquire SCB Bancorp, Inc., Decatur, for $70 million in a cash and stock transaction.
The $437 million SCB is the holding company for Soy Capital Bank and Trust Company, which includes a wholly owned subsidiary, J.L. Hubbard Insurance and Bonds. Soy Capital has ten branches based in six Illinois markets of Bloomington, Champaign, Decatur, Kankakee, Peoria and Springfield.
"The acquisition of SCB … enhances our various lines of business providing an attractive loan and deposit portfolio and a significant increase in non-interest income through services that we are very familiar with," said Joe Dively, chairman and CEO of First Mid. "All three of First Mid's lines of business, the bank, insurance and wealth and farm management, align perfectly with SCB's franchise."
Following close of the transaction in late 2018, First Mid will have about $3.8 billion in assets. Its wealth and farm management business will have approximately $3.9 billion in assets under management and the combined insurance business will be approximately $14  million in annual revenue. First Mid's non-interest income will increase to approximately 31 percent from 25 percent of revenue.
FIG Partners, LLC acted as financial advisor and Schiff Hardin LLP served as legal advisor to First Mid. Piper Jaffray & Co. acted as financial advisor and Thomas M. Shade served as legal advisor to SCB.
In the wake of its recent acquisition of First Bank & Trust, the holding company's First Mid-Illinois Bank & Trust also reshuffled its Champaign and Decatur markets.
Matt Carr, previously president of First Bank, will oversee all former First Bank markets, as well as First Mid lending operations in Champaign, Decatur and surrounding areas, including Indianapolis, as executive vice president, northern region.
Mitch Swim, after four years effectively leading the Decatur and Champaign regions as senior vice president/regional community president, is moving into the new corporate role of senior special assets officer.
Mike Krueger, long-time Champaign community president, has been named consumer and HELOC credit manager and will oversee these lines of business for the bank. Joining Krueger will be Jaci Manzella, previously retail loan officer, who has been named HELOC processing & underwriting manager.