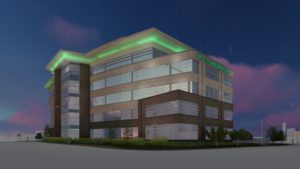 South Dakota's First PREMIER Bank broke ground on a new main office and corporate headquarters at the northeast corner of Minnesota Avenue and 14th Street in downtown Sioux Falls.
Construction of the five-story building began March 18, with an estimated completion date of November 2020. Once open, it will serve as a gateway to downtown Sioux Falls, said President Dave Rozenboom.
"This project is the culmination of several years of strategic initiatives aimed at positioning our organization for the future." Rozenboom said. "The growth of our organization and the continued growth of Sioux Falls make this an ideal time for us to take the next step to expand our facilities for the future."
The bank is currently headquartered nearby at 601 S. Minnesota Ave; the site of the future First Premier headquarters rests in a prominent location targeted for future development.
Founded in 1914 as Citizens Bank & Trust Company in Vermillion, S.D., the bank was acquired by business T. Denny Sanford in 1986 when it had two branches and $250 million in assets. Today, First PREMIER has 17 branches and $1.9 billion in assets.
"A lot has changed since First PREMIER Bank was created in 1986," CEO Dana Dykhouse said. " But the one thing that has remained constant is our commitment to building strong relationships one customer at a time and always doing what's right for our customers."
The new main office will include retail, business and private banking, home mortgage lending, and trust and investments along with other support functions.
FIRST Premier Bank been named one of the Best Banks to Work for by American Banker Magazine for the past four years in a row. First PREMIER is also the 10th largest ACH originating bank in the country and PREMIER Bankcard is the 13th largest issuer of Mastercard credit cards.