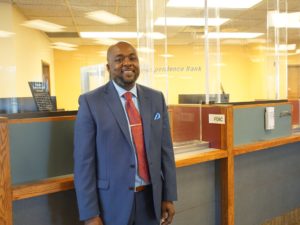 Detroit-based First Independence Bank has officially become the first Black-owned bank with a presence in Minnesota.
An April 26 ribbon-cutting ceremony took place April 26 at the site, 3430 University Ave. S.E., in Minneapolis. The ceremony included Minnesota Lt. Gov. Peggy Flanagan and representatives from five of the largest banks operating in the Twin Cities — Bank of America, Bremer Bank, Huntington Bancshares, U.S. Bancorp and Wells Fargo, which all supported the bank's expansion with capital, research, and marketing serves.  
 The branch offers a loan program to help establish a credit score or repair personal credit, virtual financial education sessions and more. It will also offer space to host education sessions and community gatherings. The bank, the seventh-largest Black-owned financial institution in the United States, opened in a former Wells Fargo branch donated to the advocacy group Project for Pride in Living.
Damon Jenkins, senior vice president and Twin Cities regional market president, said a key short-term goal for First Independence is getting more Twin Cities residents into homes and reducing the area's large racial wealth gap. According to the Urban Institute, 70 percent of white families own homes in the Twin Cities, but just 20 percent of Black families do. Of the more than 5,000 U.S. banking institutions, fewer than 20 are Black-owned, down from 48 in 2001. 
First Independence is working with local nonprofits such as Project for Pride in Living, Habitat for Humanity, The National Urban League, Minnesota Homeownership Center, Center for Economic Inclusion, and other organizations as a way to reach out to those in need. Another partnership, with the financial equity and wellness nonprofit Operation HOPE, includes a hub location serving the branch. 
 A second First Independence location, at the intersection of Lake Street and Hiawatha Avenue, will open in June. That location was considered the epicenter of the protests following the murder of George Floyd by Minneapolis Police Officer Derek Chauvin. First Independence Bank said a key reason for its expansion into the Twin Cities market was to promote equity work following Floyd's murder.  
First Independence is looking to employ 15 people across both locations.
Besides its new Minneapolis office, the $412 million First Independence has two branches in Detroit.